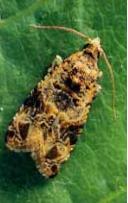 A pest never before found in the United States has been detected in California's Napa Valley.
By Kurt Kipp, Daily Digger
Oregon Association of Nurseries,
The European grapevine moth, Lobestria botrana, which feeds primarily on the flowers and fruits of grape plants (Vitis spp.) and spruge laurels (Daphne gnidium). Other hosts include blackberry (Rubus fruticosus), gooseberry (Ribes ssp.), black and red currant (Ribes nigurm), olive (Olea europaea), cherry (Prunus avium), prune (Prunus domestica), persimmon (Diospyrus kakis), kiwi (Actinidia chinensis), pomegranate (Punica granatum), carnation (Dianthus spp.), and others. So far, eight adult moths and 29 larvae have been trapped.
Officials from USDA and the California Department of Food and Agriculture are working to set out traps and survey the area for additional moths. According to a risk assessment (PDF) prepared by the University of Minnesota, the pest could adapt to Oregon's climate, and if it is established, it would carry significant economic risks.
No regulatory action has been taken, but such regulation potentially could restrict the movement of Vitis, Prunus and other host species and their fruits.