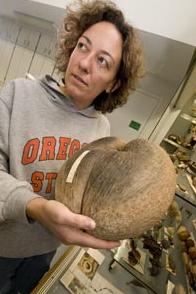 Oregon State University Extension Service, Seed Laboratory

The Oregon State University Seed Laboratory is the official seed laboratory of the state of Oregon. Twenty-two permanent staff and 10 to 20 seasonal employees serve thousands of customers in Oregon and beyond. "Up to 30,000 tests are performed in a typical year for seed growers, cleaners and dealers that depend on the information for business and seed lot labeling," said Adriel Garay, manager of the seed lab. "Seeds sold in interstate and international commerce must be tested and labeled. The most frequent tests include purity, germination and noxious weed exams. However, many additional and special tests are frequently used."
Test results are used by the Oregon Seed Certification Service to issue Blue Tag, or certified designation, and by the Oregon Department of Agriculture, to issue the Gold Sod Quality Tag. Recently accredited by the International Seed Testing Association, the OSU seed lab also can issue International Seed Testing Association Blue and Orange Certificates used in the international market.

The OSU Seed Laboratory houses the Emil Zivney collection of tropical seeds from around the world, including the double coconut or coco-de-mere (Lodoica maldivica), the largest seed on the planet.
The laboratory has contributed to testing method development for many years. In partnership with Corvallis Mater Seed Equipment, lab researchers developed the Ergostation, an ergonomically designed seed inspection workstation sold internationally. Researchers have also designed a uniform seed-blowing protocols, which use calibrated air velocity. "This technology has great potential applications for grass and other seeds," Garay said. "The lab is also initiating new research to assist seed growers, cleaners and dealers."
This year marks 100 years of continuous service to Oregon agriculture. It began as a cooperative venture with the U.S. Department of Agriculture in 1909 and continued until 1954 when the state of Oregon took over. The lab was part of the OSU agronomy department until 1916 and a section of the crop and soil science department since then. As it grew, with the help of the seed industry, it moved first to a World War II-era Quonset hut in 1946 and in 1989 into its current quarters, a custom-designed facility on Campus Way.
By: Judy Scott
Source: Adriel Garay