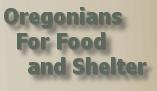 By Oregonians for Food and Shelter
There will be some new faces in Salem when the February "special session" convenes.  Senator Margaret Carter resigned to take a newly created post as Deputy Director at the Department of Human Services.  She has been replaced by former Representative Chip Shields.  Shields is a Democrat and will serve Senate District 22 in Multnomah County.
Democrat Senator Vicki Walker stepped down to accept appointment as the $97,000-a-year chairwoman of the state parole board.  But in September, Governor Ted Kulongoski announced he and Walker had jointly agreed she would not move ahead for Senate confirmation to the job.  Instead, she would work in a temporary administrative role for the equivalent of $82,000 a year.

On October 30th it was announced that Walker had landed a six-figure job in the Obama administration overseeing rural development in Oregon for the US Department of Agriculture.  She began the job on November 9th as the Portland-based Oregon director of rural development.  The position pays $133,170 a year.
Former Representative Chris Edwards replaced Walker in the Oregon Senate.
Edwards is a Democrat and represents Senate District 7 which covers a large swath of rural Lane County, including Cheshire, Santa Clara, Junction City and the surrounding areas.
Replacing Edwards as Representative for House District 14 is Democrat Val Hoyle.  Representative Hoyle is the Director of United Way of Lane County's 100% Access Health Care Initiative, and served as a legislative assistant and policy director to State Senator Floyd Prozanski.  She formerly served as chair of the Federal District Export Council of Oregon.
In the aftermath of yet another shake-up among Democrats in the state Legislature — Rep. Larry Galizio, of Tigard, resigned his seat to take a job with the Oregon University System.
Higher education Chancellor George Pernsteiner confirmed that Galizio will take a job as an "academic planner" working to coordinate university programs with community colleges.
Democrat Margaret Doherty will replace Galizio as Representative for House District 35, representing Tigard.  Representative Doherty, the owner of a floral business who has lived in the district for twenty years, was a local teacher and education advocate.
Doherty has also served as a member of the Tigard Planning Commission.
Democrat Lew Frederick replaces Chip Shields as Representative for House District 43, located in NE Portland.
Representative Frederick has spent his career in public service, with two years teaching classes at the Metropolitan Learning Center, seventeen years as a radio and television reporter with 62KGW/Channel 8 KGW-TV, thirteen years a Director of Public Information at Portland Public Schools, Assistant to the President at Portland Community College and, most recently, two years on the State Board of Education, in addition to his public-interest oriented consulting work.