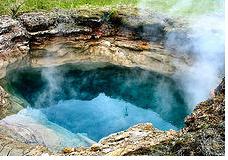 Grants for Innovative Projects will Harness Oregon's Resources
Press Release of Senator Ron Wyden
Washington, D.C. – Continuing efforts to advance alternative energy resources and break our dependence on foreign oil and fossil fuels, U.S. Senators Ron Wyden (D-Ore.) and Jeff Merkley (D-Ore.) announced nearly $40 million in Recovery Act funding for the exploration and development of geothermal energy technologies in Oregon. "This funding will literally help to bring Oregon's geothermal energy potential to the surface," Wyden said. "It will create and sustain jobs improving alternative energy technology to better tap into Oregon's unique set of renewable energy resources."
"The Recovery Act continues to spur growth in the emerging clean energy industry," Merkley said.  "These projects will create new jobs and solidify Oregon's position as a leader in renewable energy production."

Distributed by the U.S. Department of Energy, the American Recovery and Reinvestment Act funding will support and create seven Oregon-based geothermal projects. The funding dramatically increases geothermal energy development both in Oregon and nationwide and is a large step toward comprehensive utilization of alternative energy resources throughout the state.
The following seven Oregon projects are receiving funding through the American Recovery and Reinvestment Act:
Nevada Geothermal Power Company- Crump Geyser- $1,764,272
This project will test a new, low environmentally impacting drilling technique and create a method to model the movement of fluid in the reservoir.
Newberry Geothermal Holdings- Newberry- $4,475,075
This project will use advanced techniques to locate geothermal reservoirs.
ORMAT, Nevada, Inc. – Glass Buttes- $4,377,000
This project will locate faults in geothermal reservoirs using advanced techniques.
The City of Klamath Falls- Klamath Falls- $816,000
This project will fund the construction of a low-temperature power plant with a district heating system to power the city of Klamath Falls.
Johnson Controls, Inc.- Oregon Institute of Technology (Klamath Falls)- $1,047,714
This project will install a low-temperature unit on the Oregon Institute of Technology campus.
AltaRock Energy, Inc. – Newberry Volcanic Monument (Bend)- $24,999,430
This project will generate power from the Newberry Geothermal Resource Area by demonstrating EGS technology.
Surprise Valley Electrification Corporation- Paisley- $2,000,000
This project will build a binary power plant that uses low-temperature fluids. It will also help to construct a local aquaculture facility.