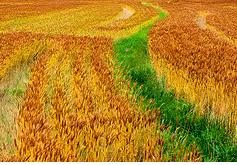 National Association of Wheat Growers and other agricultural organizations are urging consumers to add farmers and American agriculture to the lists of things they are thankful for when tallying up their blessings over turkey and pie.  The national celebration of plenty is also a reminder that modern-day America has the safest, must abundant and most affordable food supply in the history of the world – a feat made possible by the work of agricultural producers in every state.
Late last week, President Barack Obama signed a proclamation naming the week ending on Thanksgiving each year National Farm-City week.
The proclamation said, in part:
"During National Farm-City Week, we express gratitude for the contributions of our Nation's farmers and ranchers, and we rededicate ourselves to providing all Americans with access to healthy food, and thus, a healthy future…
"I call on Americans as they gather with their families and friends to reflect on the accomplishments of all who dedicate their lives to promoting our nation's agricultural abundance and environmental stewardship."
The American Farm Bureau Federation reported earlier in the month that the cost of items making up a classic Thanksgiving dinner dropped 4 percent this year, making it even more affordable for many families.
AFBF's 24th annual informal price survey of items found on many Thanksgiving Day dinners table indicates the average cost of this year's feast for 10 is $42.91 – a $1.70 price decrease from last year's average of $44.61 and a cost per person of less than most fast food meals.
The AFBF survey was taken by more than 200 volunteer shoppers from 35 states looking for items such as turkey, bread stuffing, sweet potatoes, peas, cranberries, pumpkin pie with whipped cream and coffee.
AFBF economists say that despite retail price increases during the last year or so, American consumers have enjoyed relatively stable food costs over the years, particularly when adjusted for inflation.
Tuesday night's AgChat on social networking site Twitter focused on thanking farmers – or #thankafarmer in Twitter-speak.
AgChat is a weekly conversation in which agriculturalists and consumers with Twitter accounts can participate by searching Twitter feeds for #agchat and responding back to questions asked using the #agchat symbol.
The chat was followed by an effort on Wednesday to make #thankafarmer a Twitter "trending topic" – or one of the most talked-about items on the site.
For more on AgChat, please visit http://twitter.com/AgChat or http://www.facebook.com/group.php?gid=67010541510, AgChat's Facebook page.
For more information on the AFBF Thanksgiving survey, please visit http://www.fb.org/