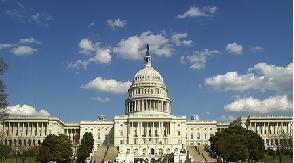 From Congressman Greg Walden
and Congressman Kurt Schrader
WASHINGTON D.C. — A bipartisan group of lawmakers from Oregon, Washington, and South Dakota today introduced legislation to give federal forest managers and scientists the tools they need to do necessary work on choked and beetle-infested forests to avoid catastrophic wildfire and put rural Americans back to work taking care of the forests again.
The legislation was introduced by Reps. Greg Walden (R-Ore.), Kurt Schrader (D-Ore.), Stephanie Herseth Sandlin (D-S.D.), Brian Baird (D-Wash.), and Cathy McMorris Rodgers (R-Wash.). Between the five representatives, their districts represent a total of over 112.4 million acres, or 175,755 square miles of land, and have over 15.3 million acres of national forest, an area about the size of West Virginia.

The Healthy Forests Restoration Amendments Act of 2009 would amend the original bipartisan and successful Healthy Forests Restoration Act (HFRA), which was signed into law in 2003. Where implemented, it has reduced the incidence and severity of catastrophic wildfire.
Since the bill was signed into law, however, wildfires have burned more than 40 million acres in the United States, an area larger than North Dakota, and have devastated habitat, water sources, and communities in rural America. The new legislation would give federal foresters and scientists the clear authority to use the proven-to-work tools in HFRA to address areas of the forests at highest risk of catastrophic wildfire.
The bipartisan group also introduced a second bill, the Incentives to Increase Use of Renewable Biomass Act of 2009, which would encourage the renewable biomass energy industry to take firm roots by encouraging universities, public schools, hospitals, local governments, and Tribes at non-gaming facilities to use clean biomass energy, heating, or cooling systems.
"Perhaps it's how I was brought up on a cherry farm or owning a small business for over 21 years, but one thing I learned is that you don't solve a problem by ignoring it," Rep. Walden said. "We've ignored federal forests long enough to take stock of the results: staggering unemployment in rural Oregon, catastrophic wildfire, massive bug kill, and threatened habitat and watersheds. Simply put, our federal forests are a national treasure in peril. It's time to act and get our rural communities working and taking care of the forests again."
"Forests can be managed in an environmentally-friendly way while producing much needed jobs in our communities," Rep. Schrader said. "We need to recognize the economic and stewardship opportunities available in our national forests that will go a long way toward creating more jobs and managing our natural resources in a more sustainable way; and that is exactly what these two bills will accomplish. I'm proud to join Congressman Walden, my co-chair on the Healthy Forest Caucus, and the rest of my colleagues in continuing to advocate for bi-partisan solutions that help our local rural communities."
"This bipartisan package of measures represents an innovative way forward in forest and energy policy," Rep. Herseth Sandlin said. "These bills will reduce wildfire risk, incentivize sound forest management and the use of woody biomass as a source of renewable energy, and create jobs in rural communities in western South Dakota.  Taken together, I'm convinced these pieces of legislation will not only produce healthier forests and reduce wild fire risk, but complement efforts in the 2007 Energy Bill and jump start our nation's effort to become truly energy independent."
"Eastern Washington has felt the devastating effects of the Mountain Pine Beetle," Rep. McMorris Rodgers said. "These effects, together with the lack of forest management, have left our forests vulnerable to dangerous and costly wildfires. We need to update the Healthy Forest Restoration Act to ensure that foresters and scientists have the tools they need to protect our forests and give them the resiliency they need to survive changing environments."
"The focus of fuel reductions must be shifted to Condition Class II and III forested areas that pose the highest risk of catastrophic wildfires," Rep. Baird said. Doing so would simultaneously improve the health of our forests, reduce the risk of wildfires, and provide raw materials needed to sustain our forest products infrastructure."