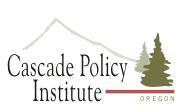 by Karla Kay Edwards
Cascade Policy Institute,
Water is the lifeblood of the Oregon economy. Whether it's the water that turns the turbines to generate clean and cheap energy, acts as the essential nutrient for agricultural commodities, or provides a multitude of recreational opportunities and environmental essentials, water is needed for every aspect of our lives and economy. Yet, Oregon continues to pass bills like HB 3369, which allowed one storage project to move forward while creating huge hurdles for any new proposed projects to clear. This can lead to the stifling of opportunities to store water at favorable times and create efficiencies within various water uses.
HB 3369 requires that any storage project that receives state grant money for construction must dedicate a percentage of water for net environmental or in-stream benefit which equals or exceeds the percentage of state funding provided for the project. The issue is that the public can receive many benefits far beyond environmental ones when water storage is developed. Projects can secure a safe, consistent water supply for a community or create an economic stimulus for communities which desperately need jobs.
The Oregon Legislature must stop picking winners and losers based on a sole objective. Water policy has to be based on a balanced approach to meet all the desired needs. The environment benefits when a community has strong employment, which in turn allows people the opportunity to consider issues other than how to keep a roof over their head.
Karla Kay Edwards is Rural Policy Analyst at Cascade Policy Institute. She has held positions of leadership in numerous organizations focusing on agricultural and rural industries and issues, including the Fresno (California) Farm Bureau, Washington Cattlemen's Association and the Oregon Department of Agriculture.