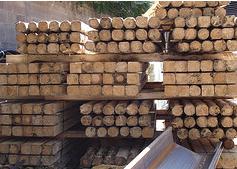 By Rick sohn
Umpqua Coquille LLC
Housing construction is still down near World War II levels, but unsold home inventories decreased a full percentage to 6.5% as mortgage rates dropped below 5%.  Lumber prices are up.  See the 3-year price tracking and discussion of lumber, logs, housing starts and permits, unsold home inventory, and mortgage rates below.
What the numbers mean.
The decrease in Portland's unsold home inventory is mirrored in Roseburg, Oregon where Prudential Real Estate Professionals Broker, Janet Johnston, reports,  "We are seeing an increase of activity in the market place and even a small increase in Sale Prices – Portland has seen an even greater increase!  Good signs, we hope, that the market is stabilizing and starting to move forward again."  This decrease in inventory is the necessary first step for home construction to increase.  There is likely a pent up demand to sell houses, so it will take some time for the unsold inventories to get to the 3 percent (more normal) range.
A rise in lumber prices is always good news.  However, it is unlikely to become a trend since it is likely caused by filling retailers' low inventories, rather than fundamental demand.  While the October lumber price is in the same range as a year ago, the log price is $79 lower than last October.  That price last October was part of a steep fall in log price to $346, and the price has leveled off for now at $410.  The October log prices are still not profitable for mills, since manufacturers are chasing too few logs, in a somewhat of a sellers market for logs. There are normally even fewer logs in the winter.
The housing starts and building permits are still at World War II levels, in the mid-five-hundred thousands, even though the interest on 30-year fixed rate mortgages rate is at a  very attractive level, below 5%.
I emphasize fixed, because years from now, people will look back and either be thankful they locked in such a low rate, or wonder why they were so short-sighted and did not take advantage of the opportunity – if they could qualify for a loan, either to refinance or to buy.
Data reports used with permission of:
1) Random Lengths.  2"x4"x8' precision end trimmed hem-fir studs from southern Oregon mills.  Price reported is Dollars per Thousand Board Feet  for the most recent week.  One "board foot" of product measures 12 inches by 12 inches by one inch thick.
2) RISI, Log Lines.   Douglas-fir #2 Sawmill Log Average Region 5 price.  Current report is for the prior month.  Dollars per Thousand Board Feet of logs are reported using standardized  log measurements from the "Scribner log table."
3) Dept. of Commerce, US Census Bureau.   New Residential Housing Starts and New Residential Construction Permits, annually adjusted.  Current report is for the prior month.   Recent reports are often revised in bold from the prior month.
4 )Regional Multiple Listing Service RMLSTM  data, courtesy of Janet Johnston, Prudential Real Estate Professionals  Broker, Roseburg, OR.  Inventory of Unsold Homes (Ratio of Active Listings to Closed Sales) in Portland Oregon, for most recent month available.
5) Freddie Mac.  Primary Mortgage Market Survey.  30-year Fixed Rate Mortgages Since 1971, national averages.  Updated weekly, current report is for the prior full month.
© Copyright Rick Sohn, #2-11 Umpqua Coquille LLC.   Email  [email protected]