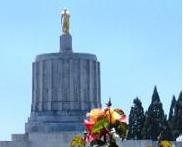 Oregon State Representative Jean Cowan calls Senator Maria Cantwell's threats for hearings an "abuse of power," comments "disrespectful"
Release by
Oregon State Representative Jean Cowan,
NEWPORT – State Rep. Jean Cowan (D-Newport) responded to a press release from Sen. Maria Cantwell (D-Washington) today, calling Cantwell's comments "disrespectful" towards Newport, Ore. and that her threat to hold Congressional hearings on the National Oceanic and Atmospheric Administration (NOAA) would be an "abuse of power."
"Relocating NOAA's Marine Operations Center-Pacific (MOC-P) has been a very open and transparent process – one that the Port of Newport competed in fairly and presented the best, most cost effective overall package that makes sense," said Cowan. "Senator Cantwell is improperly using her committee chairmanship to try and change a decision that directly impacts her state. This conflict of interest is the type of politics that Americans are tired of."

Cantwell, in recent press releases, said she wanted to investigate "whether it would hurt NOAA's capacity to hire and retain qualified mariners; whether NOAA fully understood the consequences of moving its ships away from a major maritime center; and whether NOAA ignored crucial weather factors in the Pacific Northwest" and "how the move impacts NOAA's employees."
"To raise an issue over the quality of life in Newport and the quality of our workforce is disrespectful and inappropriate. Newport attracts thousands of visitors from Washington every year – that must say something about the things our community has to offer," said Cowan. "Our community has been supportive of this effort since the bidding process. We have strong schools, a supportive business community, and world-recognized access to marine science programs and research."
Cowan also said during the NOAA decision-making process, Oregon's Legislature, Gov. Ted Kulongoski, its congressional delegation and coastal communities all joined together to support this effort in stark contrast to the seemingly disinterested way Washington State approached this decision.
"We put the best bid together because we had everyone joining hands to make this a reality. From the Oregon Coast Aquarium, Oregon Coast Community College, Newport Chamber of Commerce, and the Hatfield Marine Science Center to the Legislature's willingness to help fund the building phase necessary to make this work, our state provided a united front that showed NOAA we not only want this facility, but are prepared to do whatever necessary to make NOAA's relocation here a smooth and efficient transition," said Cowan.
NOAA already has 60 full-time employees in Newport from various divisions, 40 NOAA contractors, and 36 affiliated employees of OSU who are part of the NOAA-OSU Cooperative Institute for Marine Resources Studies (CIMRS). The Oregon State University Hatfield Marine Science Center, recognized worldwide for marine education, is also located in Newport.
"To say that Newport is somehow disconnected from marine science is completely inaccurate," said Cowan. "We're a leader in marine science, and that's one of the reasons NOAA elected to relocate the MOC-P to Newport."
Cowan is serving in her second term as State Representative for House District 10 on the Central Oregon Coast. She serves as Chair of the House Committee on Veterans & Emergency Services and as a member of the Joint Committee on Ways & Means. She also serves on the Governor's Commission for Senior Services, the Governor's Homeland Security Council, and the Task Force for Women Veterans Health Care. Cowan served as a Lincoln County Commissioner from 1993-2004 and as a Mayor and City Councilor in Elgin, Ore.
###