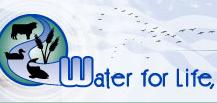 By Helen Moore,
Water for Life,
Since Oregon became a state in 1859, the Oregon Legislature has met on a biennial basis in accordance with specific provisions set forth in the Oregon Constitution. However, in 2007, the Legislature decided that it should move to a system of annual legislative sessions. Toward that end, the legislature convened a one-month "emergency" special session in February of 2008 for the stated purpose of "test-driving" annual sessions. Next month, the Legislature plans to continue its ongoing experiment with annual sessions by convening yet another one-month special session on February 1, 2010.
During the February session, lawmakers are planning to submit a constitutional amendment to voters that would authorize lawmakers to meet in annual session on a permanent basis. The rationale behind lawmakers' experiment with annual sessions and plans for a constitutional amendment is somewhat unclear. If the legislature needs a constitutional amendment in order to meet annually, it would seem to follow that lawmakers do not have authority to meet in February for the stated purpose of holding annual sessions.

Conversely, if it is constitutional for lawmakers to meet annually as they have since 2007, it is unclear why a constitutional amendment is necessary to move Oregon to a system of annual legislative sessions. Nevertheless, this is exactly what lawmakers are intending to do this February.
While the overarching purpose of the February special session is to persuade voters that lawmakers should meet on an annual basis, the February session will involve a great many other issues of importance. For example, on January 26, 2010, voters will decide the fate of two tax measures. Should either measure fail, lawmakers will spend much of the February session determining how to balance the budget. If both measures pass, the February session will be focused predominately on policy related legislation, rather than budgetary matters.
During the February session, lawmakers are expected to consider several water related bills that are of specific interest to Water for Life members. One such bill is a proposal to impose new restrictions on exempt domestic wells. The legislation, as presently drafted, would allow the Oregon Water Resources Department to require permits on new exempt wells located in designated areas of the state where the Department believes groundwater resources are limited. The legislation would also restrict the maximum quantity of water that may be appropriated from new exempt wells. Water for Life believes the legislature's continued interest in restricting exempt wells is misplaced, considering that exempt wells represent less than 1% of total water use in Oregon and anywhere from 50-85% of the water appropriated from exempt wells returns to the aquifer. Water for Life and other supporters of private property rights believe environmental advocates are advancing exempt well legislation as a backdoor mechanism for limiting development in semi-rural areas, not because they are concerned with the negligible impact that exempt wells have on the state's water resources.
Another water-related issue that will surface during the February session is the issue of navigability. At the behest of the Oregon State Land Board, legislation will be introduced that would tend to greatly expand the number of water bodies in this state that are considered navigable. The issue is significant to landowners because, in addition to other implications, a finding that a water body is navigable means the State of Oregon, not the streamside landowner, owns the bed and banks of the stream up to the high-water mark. Needless to say, Water for Life will be watching this legislation carefully to ensure that landowner rights are protected to the greatest extent possible.
Water for Life will be working actively throughout the February legislative session to make sure that interests of irrigated agriculture are well represented on all issues of interest and concern. Water for Life encourages members to watch the session closely as lawmakers will be considering a number of issues, in addition to those described above, that will impact the interests of agricultural water users and the producer community generally.