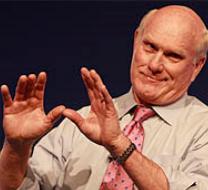 From American Farm Bureau Federation,
Terry Bradshaw, four-time Super Bowl champion quarterback for the Pittsburgh Steelers, two-time Super Bowl "Most Valuable Player" and Pro Football Hall of Fame member, used humorous stories from his days on the field to inspire farmers and ranchers during his keynote address at the American Farm Bureau Federation's 91st annual meeting.
"There's no third half in football or in life. Go for it!" Bradshaw said, as he encouraged attendees to always be thankful for what they have and persevere no matter the situation.  Recalling some of his own struggles growing up in Louisiana, in relationships and as others doubted his intelligence, Bradshaw said always counting his blessings in life and keeping a smile on his face gave him confidence.

"People like a happy person! Learn to smile, no matter how bad things get. Nothing happens to any of us in life that can't be turned around," Bradshaw said.
The owner of an 800-acre ranch, where he raises cattle and breeds horses, Bradshaw garnered applause from Farm Bureau members with his understanding of modern agriculture and when he noted, "Farming is an addiction to be proud of."
"You're blessed for doing what you love to do…what you're called to do," Bradshaw said.
Commenting on the tough year many farmers, particularly dairy farmers and hog producers, have weathered, Bradshaw said he wanted to quit many times in life but kept going.
"Your brilliance and the fact that you never lose focus will help you climb out of this hole," he said.
Bradshaw's comment "the better you are, the more people take potshots at you" struck a chord with farmers and ranchers, many of whom are contending with anti-agriculture extremists.
Renowned for his professional accomplishments in NFL football and sports broadcasting, Bradshaw has also earned acclaim as an inspirational speaker, actor, author and gospel/country singer.
The only NFL player with a star on the Hollywood Walk of Fame, the 6'3" Bradshaw was the first player chosen in the 1970 draft and became one of the most prolific quarterbacks in history. He was the first quarterback to win four Super Bowl championships (1975, 1976, 1979 and 1980), a feat that has been duplicated only once, 10 years later, by Joe Montana. Bradshaw holds the Super Bowl passing records for average gain per attempt in career (11.10 yards) and average gain in a game (14.71 yards in Super Bowl XIV). He was also a four-time All-Pro. He retired from the NFL prior to the 1984 season.
A native of Shreveport, La., Bradshaw attended college at Louisiana Tech, where he still holds the single-season passing and total offense records. He was a first-team Associated Press All-American as a senior in 1970 and later that year received a bachelor's degree in physical education from Louisiana Tech. He now lives in Texas.