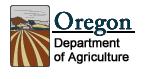 By Oregon Department of Ag.
One month of decent weather and good fishing has carried Oregon's Dungeness crab fishery into the new year with a boat load of momentum. In just four weeks following the crab season's opening, Oregon crabbers have harvested about 15.6 million pounds. Last season's entire eight-and-a-half month catch along the Oregon coast netted about 13 million pounds. The strong start has boosted the economies of coastal communities from Astoria to Brookings and sets the stage for what could be an excellent year for Oregon Dungeness crab.

"If the season ended tomorrow, it would be an above average harvest, yet we still have seven-and-a-half months to go," says Nick Furman, administrator of the Oregon Dungeness Crab Commission. "What happens in January will determine whether this is a good start to a decent season or whether this will go down as a stellar season."
The fishery's historical average is about 10.3 million pounds per season. The all-time record was set during the 2004-2005 season as about 34 million pounds of Dungeness crab was harvested. That year, nearly 16 million pounds was landed in December, another nine in January. The industry would be thrilled if January 2010 ended with four million pounds landed.
Not only is the quantity strong so far this year, the quality is high. The size of individual crabs is generally bigger than normal and the amount of meat per crab is high. All factors are combining to produce a good economic picture at this point.
"The ex-vessel or to-the-boat value of the crab in four weeks so far this year is about $27.5 million," says Furman. "Economists use a conservative multiplier of two to represent the personal income generated by related activities, including onshore processing. That means there has been about $55 million in economic activity for Oregon's coastal communities thanks to Dungeness crab."
Most of the coast has been hit with double digit unemployment and can use the economic shot-in-the-arm. The early crab haul was especially welcome during the holiday shopping season.
"I suspect here isn't a Ford, Dodge, or Chevy dealer on the coast that isn't smiling right now because fishermen tend to go out and buy new pickups in December to beat the tax man, especially in a year like this," says Furman. "The crab industry has done its part to stimulate the local economy."
For the consumer, there was plenty of delicious, high quality Oregon Dungeness crab available for the holidays. Whether the catch was purchased at retail stores and brought home for seasonal parties or whether it was ordered from the menu of local restaurants, the strong harvest to date has allowed local markets to meet the demand while creating opportunities outside of Oregon.
The ability to enjoy Oregon Dungeness crab doesn't end with the holidays. There are plenty of events and venues- as well as the product itself- to make crab a part of the celebration over the next few months.
"We like to say 'D' is for Dungeness in December, and holidays are a big time for Oregon Dungeness crab," says Furman. "But we think there is a wonderful opportunity for Dungeness in January, February, March, and even into April. With events like the Super Bowl and Valentine's Day coming up, Oregon Dungeness crab will be the choice of many consumers."
Recipes for Oregon Dungeness crab are available for home preparation as fresh product is available at retail outlets. A good online source for recipes is the Oregon Dungeness Crab Commission Web site.
Strong marketing and promotional efforts have successfully boosted the image of Oregon Dungeness crab, creating demand particularly domestically. No longer just a West Coast regional favorite, Dungeness is now found on menus and in seafood markets nationwide, wherever shellfish is enjoyed. The strong harvests of the past decade have undoubtedly helped in this expansion.
"You can look on restaurant menus up and down the eastern seaboard from New York City to Key West, Florida and find Dungeness crab from Oregon," says Furman.
Popular national restaurant chains such as Joe's Crab Shack recognize the quality of Oregon Dungeness crab. So have many supermarket chains. The casino trade has also become very interested in purchasing crab from Oregon for seafood buffets and other offerings. Even riverboat casinos along the Mississippi River have paid attention to Oregon Dungeness. Despite the economic downturn and its impact on casinos, there appears to be renewed interest in buying crab from Oregon.
Meanwhile, the Oregon Department of Agriculture will continue to partner with the industry in efforts to promote the product in as many key markets as possible. That includes the international marketplace.
"During the last 20 years, we've worked closely with the fishermen, the processors, and the Oregon Dungeness Crab Commission to successfully introduce this product to many markets, not the least of which are Japan and Korea," says Gary Roth, administrator of ODA's Agricultural Development and Marketing Division.
ODA also played a pivotal role in supervising Dungeness crab price negotiations for a season opening price. The opening day price of $1.75 per pound helped get this season off to a good start.
"Dungeness crab is one of the standard bearers for the seafood industry in Oregon and we welcome the opportunity to highlight this product for the enjoyment of all people in Oregon, around the country, and in many consumer markets around the world," says Roth.
Designated as Oregon's official State Crustacean, Dungeness crab is proving to be a bright spot so far and hopefully an indication that at least some commodities may be facing a good year in 2010.
For more information, contact Nick Furman at (541) 267-5810.