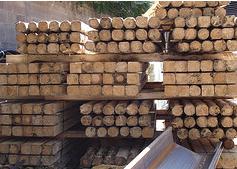 By Rick sohn
Umpqua Coquille LLC
Several statistics are improving!  Studs, logs, housing starts, and permits (and mortgage rates) are all up .   This is an excellent time to buy a home, as explained below, due to historically low mortgage interest rates and federal tax credits available to qualifying new and many existing homeowners.  See the NEW 5-year span of price tracking and discussion of lumber, logs, housing starts and permits, unsold home inventory, and mortgage rates below.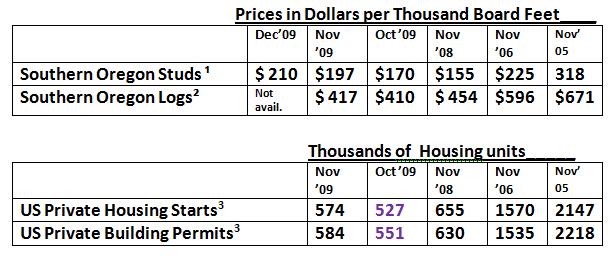 This month, I added statistics for 4 years previous, which is how long it has been since we were in a healthy market for studs, logs, housing starts, and unsold inventory.    A comparison of current lumber prices and unsold inventory to the lows of November '08 and the levels of November '05 show where we are in those cycles.  Log prices were slower to drop, and so were housing starts and permits, yet they were already at dismal numbers in November '08.
The improving statistics for this month, while driven by razor-thin inventories, are relatively encouraging. Studs and logs are both showing early  2010 season increases.  Housing starts and permits are relatively encouraging, especially starts, with a 9% increase in Starts for the month.  I say "relative" because even at this relatively strong rate of increase, it would take upwards of 20 months to catch up to the 2006 numbers.
The only downside in this month's statistics is that the unsold inventory has bounced upwards again, and this statistic must go lower for the economic homebuilding engine to gain momentum.
Interest rates bounced around historical lows in November.  However, looking at weekly reporting websites, interest rates are currently rising, and as of printing, are just above 5 percent.  According to one source, the portion of the Federal stimulus package that called for the purchase of $1.25 Trillion of mortgage backed securities, by the US Treasury, will probably have reached its quota in the first quarter, and this could put additional upward pressure on interest rates after the first quarter of 2010.
Tax Credit for First Time and Long Time Resident Owners
According to websites connected to the IRS and others, the first time homebuyer tax credit program has been extended.  A sales agreement must be signed by April 30, 2010, and escrow must close by June 30, 2010.  First time homebuyers with "modified adjusted gross incomes" under $125,000 or joint filers with income under $225,000 qualify for an $8,000 tax credit.  Slightly lower credits are available for earners or couples with $20,000 more income.
There is also a $6,500 tax credit available to "long-time resident homeowners" , who want to trade up, until April 30,  if the homebuyer has owned a single residence for 5 out of the last 8 years prior to purchase of a new qualifying primary residence.
For people who are waiting to buy a home or want to trade up, now is the time when interest rates are low, home prices have corrected, and many could qualify for a tax credit.

Data reports used with permission of:
1.) Random Lengths.  2"x4"x8' precision end trimmed hem-fir studs from southern Oregon mills.  Price reported is Dollars per Thousand Board Feet  for the most recent week.  One "board foot" of product measures 12 inches by 12 inches by one inch thick.
2.) RISI, Log Lines.   Douglas-fir #2 Sawmill Log Average Region 5 price.  Current report is for the prior month.  Dollars per Thousand Board Feet of logs are reported using standardized  log measurements from the "Scribner log table."
3.)  Dept. of Commerce, US Census Bureau.   New Residential Housing Starts and New Residential Construction Permits, annually adjusted.  Current report is for the prior month.   Recent reports are often revised in bold from the prior month.
4.) Regional Multiple Listing Service RMLSTM  data, courtesy of Janet Johnston, Prudential Real Estate Professionals  Broker, Roseburg, OR.  Inventory of Unsold Homes (Ratio of Active Listings to Closed Sales) in Portland Oregon, for most recent month available.
5.) Freddie Mac.  Primary Mortgage Market Survey.  30-year Fixed Rate Mortgages Since 1971, national averages.  Updated weekly, current report is for the prior full month.
6.)  Copyright Rick Sohn, #2-12 Umpqua Coquille LLC.   Email  [email protected]