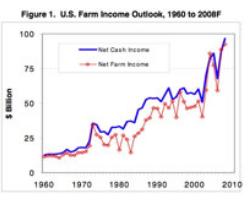 y Lynne Finnerty
American Farm Bureau Federation
With the U.S. facing deep economic turmoil and unemployment hovering around 10 percent, it might seem as if there's little to be optimistic about. Agriculture, however, has helped fortify the economy when it needed it most, as other sectors such as U.S. automobile manufacturing, real estate and construction have contracted and shed workers.
Funny thing, how agriculture often is overshadowed by seemingly more exciting industries, like, say, derivatives trading, but turns out to be the old reliable when other endeavors fail. Just like the tortoise and the hare in Aesop's fable, farmers and ranchers keep plodding along, producing food, fiber and fuel stocks.

To contrast two industries in particular, auto manufacturing and agriculture, let's zoom in on the state of Michigan, home to the big U.S. automakers and attendant industries like auto parts manufacturing. With the decline in the automakers' fortunes, the state's unemployment rate has risen to the highest in the nation, 14.6 percent.
On the bright side, agriculture in Michigan contributes $71.3 billion to the state's economy, an increase of $16.3 billion since 1997. That's right – an increase. Production agriculture, food processing and related businesses employ more than 1 million Michigan residents – jobs for which they probably are extra-thankful as they see so many of their friends, family and neighbors being laid off.
U.S. agriculture has maintained a trade surplus for the last 47 years straight. Farming and ranching was one of only four segments of the national economy with a trade surplus in 2009.
This isn't to say that agriculture hasn't taken its lumps. USDA estimates farm income to be down 34.5 percent in 2009 compared to 2008. That's largely due to less demand both in the U.S. and overseas because of the global recession.
However, given productive soil, a supply of workers, reliable inputs, limited regulations and, of course, a couple inches of rain, farmers will keep farming, ranchers will keep ranching and American agriculture will remain a bulwark against severe downturns in other sectors.
Over the last two years there have been several news stories about recession-proof jobs – things like health care and education. Agriculture isn't recession proof, but we've got to eat! There will always be a demand for food grown and packaged here in America.
Our elected leaders should take note of the role agriculture has played in shoring up the U.S. economy while ensuring a safe, plentiful food supply. They should steer clear of policies that shrink our capacity to produce food, such as the cap-and-trade climate bill passed by the House last year, which would move 59 million acres out of agriculture into trees. And they should approve policies that increase our ability to sell U.S. farm products around the world, such as the pending trade deals with Colombia, Panama and South Korea.
Good ole U.S. agriculture may not seem as exciting as making millions flipping houses. But it's an economic powerhouse that, if we don't turn our backs on it, will employ many of our citizens and feed much of the world for decades to come.
Lynne Finnerty is the editor of FBNews, the newspaper of the American Farm Bureau Federation.