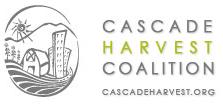 By Alex Moore,
Cascade Harvest Coalition
A lot of my peers (I'm about 30 years old) have spent more than half of their lives in a US with certified organic products and view the National Organic Program (NOP) as a sort of birthright. From time to time I hear grumbles or even adamant criticism about loopholes in the standards that allow larger scale agriculture to circumvent the original intention of the Organic Food Production Act of 1990.
Well, the New York Times and the Atlantic Magazine reported that the USDA has amended National Organic Program (NOP) regulations that govern the definition and use of 'pasture' in organic dairy production. According to the New York Times, some producers interpreted the old language, "organically raised livestock had to have access to pasture," to mean that cows were only required to be pastured during times when they were not producing milk. Here is an excerpt of the new, much tighter regulation.

* Animals must graze pasture during the grazing season, which must be at least 120 days per year;
* Animals must obtain a minimum of 30 percent dry matter intake from grazing pasture during the grazing season;
* Producers must have a pasture management plan and manage pasture as a crop to meet the feed requirements for the grazing animals and to protect soil and water quality; and,
* Livestock are exempt from the 30 percent dry matter intake requirements during the finish feeding period, not to exceed 120 days. Livestock must have access to pasture during the finishing phase.
That's simple enough language to pass onto my friends. But what about preservatives and artifical flavors in processed organic grocery items? I'll have to dig in a bit deeper to get clear on those rules.
Alex Moore is Program Manager at Cascade Harvest Coalition