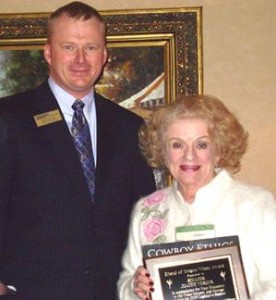 Oregon Wheat Grower's League honors Sen.David Nelson, Sen. Martha Schrader, Sen. Joanne Verger, and Rep.Bruce Hanna. Rep. Mike Schaufler received
The OWGL Board of Directors together with OWGL staff participated in a "Day at the Capitol" on Friday, February 12 in honor of Oregon's Birthday which fell on Sunday this year.  Governor Kulongoski addressed the audience comprised of interested citizens and school children prior to cutting the birthday cake sponsored by the Oregon Wheat Growers League.  Special thanks to the Governor and Lisa Hanson, Oregon Department of Agriculture, for their remarks and willingness to participate.
The day was filled with legislative meetings to outline areas of concern and priority issues for the industry.  The Legislators were grateful for the update and complimented the Board members for spending time in the Capitol.

A Legislative Reception was hosted the evening previous to greet members of the Legislature and build working relationships with all who attended.  The Reception was a tremendous success and comments of appreciation were offered by Legislators about the opportunity to meet wheat producers from around the State.  Immediate Past President, Jeff Newtson, took advantage of the opportunity to present four of the remaining "Friend of Oregon Wheat" Awards to legislators who were unable to join the League during the recent Annual Conference in Coeur d'Alene, including Senator David Nelson, Senator Martha Schrader, Senator Joanne Verger, and Representative Bruce Hanna. Representative Mike Schaufler received his award in Coeur d'Alene.