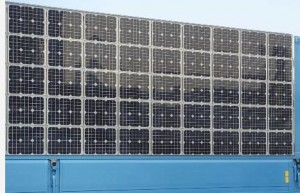 By Natural Resource News Note:
A rising star solar company in Bend, named Powered, was purchased for $90 million by Advanced Energy. Below is the press release from Advanced Energy Industries, Inc.
Fort Collins, Colo., March 24, 2010 – Advanced Energy Industries, Inc. (Nasdaq GM: AEIS) today announced it has signed a definitive agreement to acquire PV Powered Inc., a leading manufacturer of grid-tied PV inverters in the residential, commercial, and utility-scale markets. The acquisition is expected to add an estimated $40-50 million to Advanced Energy's 2010 revenues and be neutral to marginally dilutive to GAAP net income in 2010.

"We are very excited to announce this acquisition and believe the combination of Advanced Energy and PV Powered will continue our strong momentum in the inverter market, propelling us forward as a leading manufacturer of solar inverters in North America. The addition of PV Powered's transformer-based inverters with power levels below 500kw for the small to mid range commercial inverter market allows Advanced Energy to target a portion of the market that we have not yet addressed. As a combined company, our comprehensive portfolio of both transformerless and transformer-based inverter products will serve the entire spectrum of commercial project sizes from 30kw to multi-megawatt utility installations, placing us firmly at the heart of the emerging and fast-growing solar inverter market," said Hans Betz, chief executive officer of Advanced Energy.
PV Powered is an innovation leader for high-reliability transformer-based PV inverters utilized in commercial roof top and ground mount systems in the North American market. Founded in 2003 and based in Bend, Oregon, PV Powered is a privately held company with approximately 90 employees and $21 million of revenues in 2009. Its inverters range in size from 30kw to 260kw for the commercial market and 1kw to 5kw for the residential market, with market leading efficiency ratings. PV Powered's experienced inverter engineering team has continuously optimized the performance and reliability of its inverters allowing PV Powered to offer the industry's first standard 10 year product warranty and optional 20 year extended warranty.
"The employees and management of PV Powered are extremely excited at the prospect of joining Advanced Energy," said Gregg Patterson, chief executive officer of PV Powered. "PV Powered and Advanced Energy have a collective history of industry innovation, driven by a commitment to power conversion efficiency and inverter reliability that leads the market. Both organizations share a common mission to deliver the lowest levelized cost of energy and the highest levels of customer satisfaction. Together, we can offer the broadest technology and product portfolio in the industry."
Under the agreement, Advanced Energy will acquire PV Powered for a purchase price of up to $90 million consisting of $50 million to be paid at closing in the form of $35 million in cash and $15 million in Advanced Energy's common stock, as well as up to $40 million in a potential earn-out based on PV Powered's full year 2010 financial results. The transaction will be subject to a number of other customary closing conditions and regulatory approvals including Hart Scott Rodino. Throughout 2010, PV Powered will operate as a wholly-owned subsidiary, continuing to sell and support its PV Powered branded inverters.
Currently, we anticipate sales of PV Powered's inverter to contribute as much as $40M-$50 million to Advanced Energy's 2010 revenue. Of that, we expect $30-35 million to come from sales to the commercial market and $10-15 million from the residential market. We anticipate gross margins on these products to be in the range of 26-29% and have additional operating expenses of $3-4 million.
Needham & Company, LLC acted as the financial advisor and provided a fairness opinion to Advanced Energy related to this transaction.