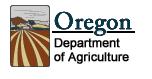 Warm and dry winter leads to water concerns in Oregon
By Oregon Department of Agriculture,
In typical El Niño fashion, winter in the Pacific Northwest has been generally warm and dry, as predicted. Spring officially arrived this past weekend but may not carry with it as much precipitation as needed following the low snowpack in Oregon's mountains. The result could be challenging times for agriculture and irrigators in the summer.
"After the early season cold air outbreak in December, the months of January and February were incredibly mild," says meteorologist Pete Parsons of the Oregon Department of Agriculture. "Of course, that led to some poor mountain snowpacks around the state. It will probably be a tough year for irrigators. At this time, it appears nearly all areas of the state are going to be short on water."
El Niño is the name given to the periodic warming of tropical Pacific sea-surface temperatures. Any cold spells associated with El Niño typically occur from Thanksgiving through New Year's Day. That's what happened in late 2009 with a fairly good start to the snow season in higher elevation now just a dim memory. It stopped snowing and much of the precipitation that fell in the past couple of months was rain because of the relatively warm temperatures. A winter of below normal snowpack in the mountains is always a concern for agriculture. Snowmelt from the mountains leads to strong stream flows and filled reservoirs- important components for irrigation in the summer.
Parsons says it is much better to have a good snowpack heading into April than having to rely on spring rains to make up the difference.
"There is no substitute for having a good winter snowpack in the mountains. It does help if you can get a wet spring, obviously. It would alleviate some of the problems. But it's not going to completely make up for the lack of winter snowpack. We have snowpack levels anywhere from 50 to 85 percent of normal around the state. You will not make that up with spring storms."
During an average year, Oregon will have built up to 95 percent of its annual peak snow accumulation by March 1, according to the US Department of Agriculture's Natural Resources Conservation Service (NRCS), which conducts snow surveys at various locations around the state. At the beginning of the month, basin snowpack conditions in Oregon ranged from a low of 38 percent of average in the Willamette Basin to a high of 109 percent of average in the Owyhee and Malheur basins. Statewide, the snowpack on March 1 was 60 percent of average. Since then, the snowpack levels in the Owyhee and Malheur basins- still doing better than other parts of the state- have dropped to 82 and 79 percent of average respectively. In the troubled Klamath Basin, where a state drought declaration has already been made, the current snowpack is 68 percent of normal.
While November, December, and February this winter were dry months throughout Oregon, January was actually near or slightly above normal in terms of precipitation for areas east of the Cascades. The problem is that it usually fell as rain, even in the higher elevations.
NRCS uses all available data to determine streamflow forecasts- a prediction that may be more telling to irrigators. For most parts of the state, streamflow forecasts have declined as water supply conditions fail to improve. The Upper Klamath Lake inflow has a forecast of 61 percent of average. The Owyhee Reservoir inflow is forecast at only 50 percent of average. Even the Willamette River shows a streamflow forecast of only 69 percent of average. Clearly, the expected amount of water from melted snow and rainfall this year is down roughly a third of what is normally available statewide.
A third important factor considered by NRCS is reservoir storage at Oregon's 25 major irrigation reservoirs. Going into March, the storage statewide was 62 percent of average with many areas well below average for this time of the year- another indicator of water shortages during the upcoming summer season.
None of this has come as a surprise to ODA's Parsons, who correctly predicted the winter months' weather. As he looks ahead for the next three months, the crystal ball isn't quite as clear.
"As you get out of the cold season, trying to predict climate is more difficult because the climate signals based on El Niño are not as strong as we go into the spring and summer months. But the general climate signal is for precipitation to be near to slightly below normal over the next few months. Temperature-wise, March and April during El Niño years tend to be on the cooler side and it isn't until May when temperatures go back above normal. That may help slow down the snowmelt, but remember, we are dealing with not as much snow in the mountains in the first place."
It appears that spring has been in place for several weeks as plant buds and some blossoms have appeared throughout Oregon. There is always the possibility of a jolt of cold weather and sub-freezing temperatures. But the later it gets into spring, the less likely a cold snap will hit.
Despite the dour projections of water shortages this summer, history may provide a glimmer of hope if farmers and ranchers can simply hold on for another year.
"Frequently when we come out of an El Niño event, the following winter can be normal or above normal in terms of precipitation and colder than normal in terms of temperature," says Parsons. "It's unlikely we will have back-to-back years of below normal precipitation. That's something we might look forward to next winter."
Updated information on Oregon's snowpack conditions and water supply forecasts
ODA's seasonal climate forecast