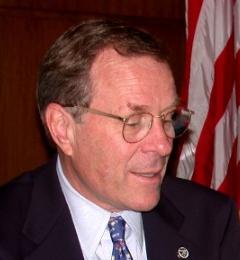 Governor simultaneously requests a federal natural resource disaster determination
By Governor Ted Kulongoski,
(Salem) — Governor Ted Kulongoski issued Executive Order No. 10-03, determining a state of drought emergency in Klamath County as well as all bordering counties which includes Jackson, Douglas, Lane, Deschutes and Lake counties. This declaration provides the state flexible water management strategies to assist irrigators, municipalities and other water users, not generally available under Oregon law.
Governor Kulongoski also wrote to U.S. Secretary of Agriculture Tom Vilsack to request a federal natural resource disaster determination. Such a determination would provide eligible farmers and ranchers with access to two other federal financial assistance programs, in addition to three federal programs that are already available.

"The water situation presents a real threat of economic loss to those who live and work in the Klamath Basin – and the state is going to do everything in its power to help," said Governor Kulongoski. "By issuing a state declaration and requesting a federal disaster determination, we can begin to work on emergency water strategies now while the Federal government begins the required economic assessment of the impacts."
The Governor issued the order following a community meeting he held in the Klamath Basin last week on the water situation and after receiving a request for a drought declaration from the Klamath County Board of Commissioners. It comes as the state waits for the Federal government to determine how much surface water will be available throughout the irrigation season without harming federally-protected endangered species. The determination is expected to be made soon.
Most notably, the Executive Order means that Klamath Basin irrigators and other water users can begin to work with the Water Resources Department to apply for temporary emergency permits that are valid during the length of the declared drought. In general, these permits allow water users to use supplemental ground water sources in lieu of their surface water rights and for emergency transfers of water from one parcel of land to another.
The Water Resources Department also has dispatched additional staff resources to the Klamath Watermaster's Office. Beginning today and through this week, water rights specialist Joel Plahn will be available to help water users apply for emergency drought permits.  Mr. Plahn will be physically located at the Watermaster's Office (5170 Summers Lane in Klamath Falls) and also available by phone (541-883-4182). Staff will be available by appointment throughout the coming weeks and months, and reachable at the phone number above.
The Oregon Department of Agriculture will also continue to provide technical assistance and advice to farmers and ranchers. Additionally, ODA will play the important role of facilitating interaction with the U.S. Department of Agriculture regarding the federal natural resource disaster determination.
The drought declaration also puts the Oregon Military Department on notice to assist as needed. The role of the agency will be critical should water sources for home and personal use become constrained.
For the text of the Executive Order, click here.
For a copy of the letter to U.S. Secretary Vilsack, click here.
For more information, visit the state's Klamath Basin 2010 Web site set up specifically to provide stakeholders with up-to-date information on this year's water situation: http://www.oregon.gov/OWRD/Klamath_Basin_2010.shtml
Klamath Basin water situation overview:
With an historic low level of rain and snowpack in 2010, the Klamath Basin region is facing a challenging water year. Absent significant precipitation, it is likely the region will continue to face a major drought, potentially making this year the most significant water shortage situation experienced in the basin since 2001.
As of March 15, snowpack is 77 percent of average and year-to-date precipitation is 1.90" (3.55'' is normal).
The current level of Upper Klamath Lake, a key surface water source, is among the lowest on record and federal requirements for the protection of endangered species require minimum lake levels before water deliveries to irrigators can begin.
Federal agencies are considering flexibility under lake level requirements that could allow some water for irrigators while still protecting endangered species.