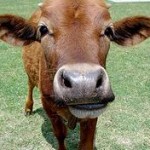 AFBF responds to error-filled Sunday comic
From The Dairy Herd
Dairy farmers across the nation are upset about an error-filled and rhetorically loaded Sunday comic strip aimed at providing facts to kids, and American Farm Bureau Federation President Bob Stallman is helping them set the record straight. The comic strip "You Can with Beakman and Jax," carried in syndication and printed in newspapers across the nation, focused on a dairy theme this past Sunday. The strip was rife with blatant misrepresentations about America's dairies and leaned heavily on the use of overheated rhetorical terms such as "factory" rather than farms.
In a letter to cartoonist Jok Church, copied to the president of the strip's distributor, Universal Press Syndicate, Stallman informed Church that the strip printed nationwide on April 18 was "filled with errors, inaccuracies and outright lies. You have done a great disservice to America's hard-working dairy farm families and to consumers who purchase dairy products." Stallman pointed out that few of the "facts" provided in the strip were correct.
"It appears you have an agenda to push, which is more important to you than educating your readers with the truth," Stallman stated. "First, a 15-month-old calf is called a 'yearling,' not a 'cow' as you state. In addition, dairy cows are mature when they have their first calf-usually around 24 months of age. There is no way on earth that a cow could calve at 15 months. That would require her to be bred at six months of age, which does not happen."
Stallman also challenged Church for stating in the strip that "almost all dairy cows are raised in factories where they're fed surplus corn and soy-not the grass that is a cow's natural food."
He also pointed out that cows that live in large modern facilities are medicated no more than they need to be and that they receive regular checkups and vaccinations in order to prevent diseases. Further, Stallman wrote that under federal laws, no meat and milk products are allowed to be shipped with antibiotics in them.
More info: http://dairyherd.com/news_editorial.asp?pgID=675&ed_id=11100