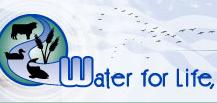 By Helen Moore,
Water for Life,
During 2009, the 75th Legislative Assembly passed House Bill 3369. The legislation pertained to a number of discreet topics, including water storage grant and loan programs. One component of this legislation, however, called for the development of a statewide, integrated water resources strategy to help Oregon meet its future water needs in terms of water quantity, water quality, and ecosystem function. Water for Life aggressively opposed the inclusion of these provisions in the bill, but the Legislature insisted upon enacting them over Water for Life's ardent objections.
HB 3369 is now law and the Oregon Water Resources Department (OWRD) is busily working with other state agencies and various stakeholders to implement the legislation. As Water for Life anticipated, the focus of these efforts is not directed at ensuring Oregon's future agricultural water needs are met. Instead, the Department and other stakeholders are primarily focusing their attention on protecting ecosystems, water quality, preparing for climate change, and increasing the number of agencies involved in the management of the state's water resources, thereby enhancing the bureaucracy associated with the state's water management.
On February 18, 2010, OWRD released its draft five-year action plan for implementing HB 3369. The document describes the objectives of the integrated water resources strategy, the numerous agencies and advisory groups that will be involved in developing the strategy, and the five phases of the project along with the timeline for completion of each phase. These five phases and their associated timelines for completion are as follows: (1) Identifying the objectives of the program (complete), (2) Identifying water resource needs (now to August 2010), (3) Developing recommended actions (Sept. 2010-Dec. 2011), (4) Producing Oregon's first integrated water resources strategy (Jan 2012 – Dec. 2012), and (5) Implementation and evaluation of strategy (2012 and beyond).
The many facets of the integrated water resources strategy are too numerous and too complicated to explain in a member newsletter article. However, Water for Life members interested in being involved with the development of this strategy should plan to attend one of the several "open houses" that will be held at various locations throughout the state this spring. The dates for these open houses are below.
BANDON – Thursday, April 22
Conference and Community Center, "The Barn"
1200 Eleventh Street
TILLAMOOK – Wednesday, April 28
Tillamook County Library
1716 3rd Street
MEDFORD – Tuesday, May 11
Medford Library
205 South Central Ave.
KLAMATH FALLS – Wednesday, May 12
Oregon Institute of Technology
3201 Campus Drive
REDMOND – Thursday, May 13
Redmond Fire and Rescue
341 NW Dogwood Ave.
SALEM – Tuesday, June 8
Oregon Department of Fish and Wildlife Office
3406 Cherry Ave. NE
EUGENE – Thursday, June 10
Eugene Public Library
100 West 10th Ave.
Members interested in obtaining more information about the integrated water resources strategy in general may review background materials and sign up to receive email messages about the process on the OWRD's Integrated Water Resources Strategy project page found at http://www.wrd.state.or.us