By Rick sohn
Umpqua Coquille LLC
The price of  lumber has held, while the price of logs has increased slightly.   But housing starts are down, and unsold home inventory bucked seasonal trends and rose, while mortgage rates remained very low.  See four-year price analysis of lumber, logs, housing starts, permits, unsold home inventory, and mortgage rates below.
What the numbers mean.
The continuing strength of lumber prices is good news, driven by low inventories of many products.  Despite the fact that log prices continue their steady climb, the affordability of logs, based on the reported numbers, is up again.  As reported in January, the percentage of log price covered by the sale of 1,000 Board Foot of studs reached 50%, a very high percentage, typical of the trend of lagging log prices.  This month the log price percentage reached  59%, the highest recently.   Random Lengths reports that the low lumber inventory, has not only driven prices up, but has driven some substitution into other wood products at a time when orders are exceeding mill inventories for the first period in over a year.
Unfortunately, the good news in lumber prices, is offset by some bad news in unsold home inventories that affects the fundamental trend of new housing demand.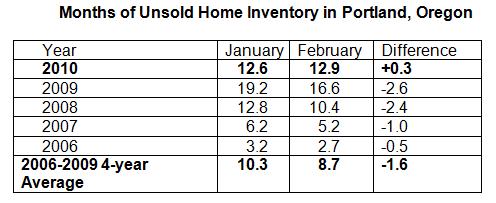 Months of Unsold Home Inventory in Portland, Oregon
The spike UP in UNSOLD home inventories in Portland from 12.6 to 12.9 months from January to February, bucks the trend of recent years.  See the previous 4 years, when unsold home inventories went DOWN an average of 1.6 months from January to February.
This increased inventory may in part explain the weak housing starts and building permits.   Random Lengths reports that unusually harsh winter weather also lowered seasonally adjusted housing starts.  February 2006 marks the first month of the falling trend of housing starts, which continued until a turnaround in March-April, 2009
For producers, there is also a natural-disaster effect from the Chile earthquake.  It not only destroyed homes but also plywood manufacturing facilities in Chile.  This has opened up opportunities for increased plywood production in the Pacific Northwest, such as hiring for more shifts at Roseburg Forest Products, as has been reported.
Realtors, such as Janet Johnston in Roseburg, have seen an increase in showings lately, and daylight savings time also helps.  RMLS reports that February closed sales and pending sales are up slightly since January, 2010 in Portland.
Data reports used with permission of:
1) Random Lengths.  2"x4"x8' precision end trimmed hem-fir studs from southern Oregon mills.  Price reported is Dollars per Thousand Board Feet  for the most recent week.  One "board foot" of product measures 12 inches by 12 inches by one inch thick.
2) RISI, Log Lines.   Douglas-fir #2 Sawmill Log Average Region 5 price.  Current report is for the prior month.  Dollars per Thousand Board Feet of logs are reported using standardized  log measurements from the "Scribner log table."
3) Dept. of Commerce, US Census Bureau.   New Residential Housing Starts and New Residential Construction Permits, annually adjusted.  Current report is for the prior month.   Recent reports are often revised in bold from the prior month.
4) Regional Multiple Listing Service RMLSTM  data, courtesy of Janet Johnston, Prudential Real Estate Professionals  Broker, Roseburg, OR.  Inventory of Unsold Homes (Ratio of Active Listings to Closed Sales) in Portland Oregon, for most recent month available.
5Freddie Mac.  Primary Mortgage Market Survey.  30-year Fixed Rate Mortgages Since 1971, national averages.  Updated weekly, current report is for the prior full month.
© Copyright Rick Sohn, #3-3 Umpqua Coquille LLC.   Email  [email protected]