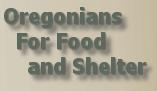 Oregon Initiative Petition 50 regarding redistricting
By Oregonians For Food and Sheleter,
We must make sure that the 2011 redistricting in Oregon is done fairly. The next reapportionment will be based on the 2010 Census. The last reapportionment was done by Secretary of State Bill Bradbury and it was drawn to favor Democrats. We should not have reapportionment done to favor either Democrats or Republicans.
Initiative Petition 50 is a Constitutional Amendment that would call for the appointment of an independent, non-partisan commission to carry out reapportionment of legislative districts rather than having either the legislature or the Secretary of State do the job.
It would take the partisanship and self-dealing out of redistricting. California voters passed a similar measure passed in 2008.
You can sign a petition to help get this measure on the November 2010 ballot by going to the Common Sense for Oregon web site and printing a single signature petition.  The petition has prepaid postage and is set up to be folded, taped, and mailed.
NOTE: You must print the petition you sign. You cannot print a petition for anyone else.
Click here and you will be taken to a page where you will see a button to access the petition and another button to access the text of the measure.