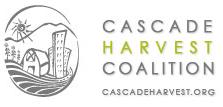 By Alex Moore,
Cascade Harvest Coalition
Former White House advisor, Van Jones, popularized the phrase 'green collar jobs'. His vision is to bring job training and employment opportunities to urban America through a national focus on energy retrofits. While Van's message is spot on, many of my colleagues have lamented that agriculture doesn't get enough recognition for the green collar jobs it creates.
Last month, the Washington State Employment Security Department reported that the "most common green occupation in 2009 was agricultural workers." The agriculture industry creates more than 12,000 green jobs annually, the second largest source of green jobs in WA state (yes…behind energy efficiency in the construction industry). Those 12,000 positions represent 11% of all agricultural employment in WA state and are mostly generated by companies whose work is "preventing and reducing environmental pollution."
As projects such as Farm Power NW and the Wild Horse Wind Farm continue to challenge our conception of what food and energy production look like and as the city of Seattle continues to herald 2010 as the Year of Urban Agrulture, let's continue to look to farms as a source of green jobs.
Alex Moore is Program Manager at Cascade Harvest Coalition.