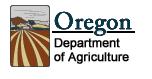 No eradication project planned for this year
Oregon Department of Agriculture,
The whirling, thumping sound of the helicopter will be silent this month. In a rare but welcome occurrence, there is no gypsy moth eradication project planned for Oregon this spring. Nearly every April since 1980, the Oregon Department of Agriculture has responded to at least one, if not several, breeding populations of gypsy moth somewhere in the state. But for only the fourth time in 30 years, there will be no spray project designed to rid local infestations of the plant-eating insect. Quite frankly, everyone associated with ODA's Insect Pest Prevention and Management Program (IPPM) is thankful to take a breather.

"Last year, we caught only six gypsy moths statewide," says IPPM supervisor Helmuth Rogg. "It was a relatively quiet summer which was very positive. Not having an eradication program in the spring doesn't happen very often,"
ODA did not conduct a gypsy moth eradication project in 2006, 2002, and 1990.
Eradication projects are based on the previous year's gypsy moth trapping results. Of last year's six detections, three were located in the Portland area, two were in Aurora, and one was in Clackamas.
Of the three gypsy moths trapped in Portland, two were detected in an RV park at Jantzen Beach not far from a commercial shopping center. Recreational vehicles are a known pathway by which gypsy moths can hitchhike to Oregon from infested states, usually as an egg mass attached to the recreational vehicle. Due to this risk, RV parks, campgrounds, and rest areas statewide are trapped each year. The third gypsy moth in Portland was found in an industrial area near the Columbia River.
The two detections in Aurora occurred separately about five miles apart. The single detection in Clackamas took place not far from Interstate 205.
In addition, no gypsy moths were trapped in Eugene- the site treated last spring with an aerial spray program after seven gypsy moths were trapped in 2008.
"The good news is that we came back after the Eugene eradication program, trapped intensively, and caught no gypsy moths," says Rogg. "We feel good about the effectiveness of the eradication program in that area. It takes two years of negative trapping to declare gypsy moth eradicated from an area, so we'll be back there later this spring putting out more traps."
Just because things are quiet on the gypsy moth front this spring doesn't mean everyone should relax. New introductions are almost a certainty every year as people move to or visit Oregon from infested areas back east. They unwittingly bring the plant-eating insect with them on such things as outdoor household furniture or other items that may harbor gypsy moth eggs.
As the general infestation of gypsy moth nationwide has moved from the east coast to the Midwest states, the threat of further spread towards the West Coast increases. However, like many insect pests, the gypsy moth population back east is cyclical.
"We can see that the general population of gypsy moths is down in the infested areas of the eastern United States," says Rogg. "Another factor may be that fewer people are traveling to Oregon from back east because of the economy. Fewer people are coming our way with the potential of carrying gypsy moth egg masses attached to their vehicles."
The pest's cycle is why officials don't necessarily expect another year of historically low detections. They do, however, give themselves some credit for a relatively tame gypsy moth outlook the past few years.
"We place a lot of emphasis on early detection and rapid eradication when we do find reproducing populations of gypsy moth," says Rogg. "In recent years, the population of gypsy moths back east has been down a bit. If the cycle swings back and there is a higher number of gypsy moths back east, we would expect a higher probability of new introductions."
Certainly, the current numbers are a mere fraction of the situation in the 1980s when parts of Oregon were literally crawling with gypsy moths. In 1984, more than 19,000 gypsy moths were trapped, mostly in Lane County. That led to the largest successful gypsy moth eradication program ever conducted in the west, with more than 225,000 acres treated.
With six moths detected last year and zero acres to be treated this spring, 2010 looks much better.
Even though the gypsy moth detection and eradication programs have almost become routine and publicly accepted, many Oregonians might wonder why a small insect is such a big headache. Gypsy moth is the major pest of trees and shrubs along the East Coast. If established along the West Coast, it would defoliate trees and shrubs, impact forests, agriculture, and urban environments. Back east, millions of acres have been defoliated by the gypsy moth.
"We must be vigilant in order to protect Oregon's natural resources and our quality of life," says Rogg.
Thousands of gypsy moth traps will be placed throughout Oregon beginning in May, checked later in the summer when the male gypsy moth is in the adult stage, and removed in September. Anything resembling last year's low total would be more than welcome. Most Oregonians would rather not have to learn to live with the pest. That's why the ambitious trapping program and quick eradication action when breeding populations are detected- using a biological control specific to caterpillars and organically certified- is so important.
It's hard to predict what might happen in the future. For the third consecutive year, the neighboring state of Washington will not be conducting an eradication program in 2010. While gypsy moth detection totals are down, officials in both states don't expect them to always stay that low. So the vigilance will continue.
For more information, contact Barry Bai at (503) 986-4645.