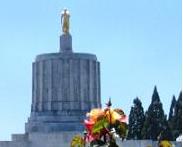 Senator Ferrioli Wants Answers About Halted LNG Project
By Oregon Tax News,
State Senate Republican Leader Ted Ferrioli wants to know if Brent Foster, a Department of Justice attorney who resigned in April, actively worked to derail the proposed Bradwood Landing Liquefied Natural Gas Project near Astoria. The project's developers recently suspended their efforts after endless delays in the permitting process.
Ferrioli is urging Attorney General John Kroger's office to practice "full disclosure" by releasing email correspondence between Foster and co-plaintiffs, who opposed federal regulators' approval of the Bradwood LNG project. Yet, the Oregon Department of Justice is refusing to release much of this correspondence because the co-plaintiffs will not waive their attorney-client privilege.
Ferrioli believes the public deserves to know what role Foster may have played in biasing the permitting process. He is calling on his Senate colleagues to pressure the DOJ to release all requested documents. In a letter to Senate majority leader Richard Devlin, Ferrioli wrote: "I am confident you agree that Oregonians and those we hope to attract to do business in our fair state have the expectation of unbiased and equitable treatment of their permit applications, free of the political machinations of bureaucrats and the pettiness of elected officials." In the letter dated Wednesday, May 19th, Ferrioli also suggested a subpoena would be in order if Kroger 's office did not comply with releasing all requested communications.
Foster, a member of Kroger's staff, resigned in April after he misrepresented his involvement in a criminal environmental case involving Hood River Juice. Foster, a known environmental activist and former executive director of Columbia Riverkeeper, was hired by Attorney General Kroger to help follow through on Kroger's campaign promise to toughen up on polluters.