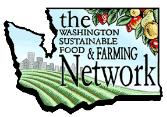 Good Food Coalition Applauds Governor's Executive Order as Good Step Forward
Washington Sustainable Food and Farming Network
SEATTLE, WA – A coalition of farmers, children's health advocates, environmentalists, and anti-hunger advocates applauded the Executive Order issued today by Governor Gregoire at the Food Systems Strategies Summit. Executive Order 10-02 brings together agencies and community partners to coordinate their work and increase collaboration to strengthen our state's food system. "Each year, we lose 70,000 acres of farmland here in Washington. The average age of our farmer is 57. Our food system is struggling and we can – and need –  to do better," said Ellen Gray, executive director of The Washington Sustainable Food & Farming Network. "I applaud the Governor for taking this important first step and look forward to the recommendations this group will bring forward."
The Executive Order tasks the Departments of Health, Agriculture, Social and Health Services along with the Conservation Commission and the Office of Superintendent of Public Instruction to deliver a report to the Legislature outlining the remaining gaps and opportunities in Washington state food policy that will help agencies, legislators, and stakeholders develop solutions that fit our state's needs.
"We need to keep our farmers working, and ensure all kids have access to farm fresh food," said Rep. Kevin Van De Wege (Sequim). "This Executive Order is a building block towards a better way of doing things, and I'm hopeful that it will result in strong policy recommendations to the  Legislature on how we can promote healthy farms and healthy food."
A private, anonymous donation was recently made to The Washington Sustainable Food & Farming Network to inaugurate the public-private partnership that will help advance this important food policy systems work.
"A greater coordinated focus within state agencies will give me, and other farmers, the assurance that we are on a path of improving our food systems," said Jim Baird of Baird Orchards and Cloudview Eco Farms in Royal City, Washington. "Growing food, growing awareness about healthier food systems, and creating locally-based economies will be good for the future of our state."
"Establishing an Executive Order to take a focused look at improving our food systems is a terrific opportunity to improve the access to and the quality of healthy foods for all of Washington's citizens," said Victor Colman with the Childhood Obesity Prevention Coalition. "Countering our state's childhood obesity trends is challenging work, but we know that the solutions require policy changes across multiple systems that reach beyond individuals and families – especially medical, land use, transportation, education, workplace as well as our food system."
"This is an important piece of the puzzle when it comes to preserving farmland and connecting farmers with people across Washington," said Kerri Cechovic, outreach director at Washington Environmental Council. "We're looking forward to working with the Governor, the Legislature, and our Good Food Coalition partners to continue building a healthy food system for our state."
This Executive Order builds on the success of the Local Farms Healthy Kids Act passed in 2008 that broke down long-standing institutional barriers to start connecting Washington's schools with local farmers. Thanks to the programs created by this law, in 2009 alone, 10,000 kids ate fresh, locally-grown snacks in schools from Armin Jahr Elementary in Bremerton to Moxee Elementary in Yakima. Additionally, Farm-to-School Program staff have worked to connect thousands of people across Washington including farmers, educators, public health experts, food distributors and processors, parents and community advocates to help develop farm-to-school projects.
###
The Good Food Coalition advocates for policies that build a sustainable and socially-just food system that supports viable local farms, protects our air, land and water, and ensures affordable access to healthy food for all people in Washington State.
Read the Governor's Press Release also.