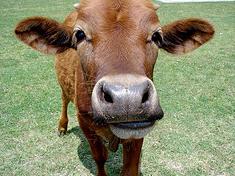 By Oregon Small Business Association,
A sluggish economy and hard times are decimating Oregon's dairy market, as demand and prices decline. Fewer people are buying premium cheese and milk suppliers, such as Rogue Creamery and Darigold, aren't buying as much from farmers.  Today, a gallon of milk that may cost $1.50 to produce only receives approximately $1 from Darigold.  Intensifying the challenge is a surplus of organic milk, causing the prices of conventional and organic milk to drop.  Many diaries invested in the organic market when the demand was high, but now, demand has fallen short and farmers are being forced to sell at a loss, sometimes as low as the price of conventional milk.
In Josephine County, an area often referred to as "dairy row," exemplifies the challenge of a once thriving industry.  Now, small Oregon diary farmers are losing money and struggling to stay in business.  A recent Oregonian article shared the story of a dairy farmer, Dalmer Brink, who has left the dairy farming industry after 42 years in the business.  He says that this is the worst he has seen the dairy industry.  His neighbors, Bob Crouse and Cecil Waldron have also reduced their cattle herds and are now focusing their efforts on other higher value crops.
The number of dairy cows in Josephine County has dropped significantly from 3,003 in 1987 to only 974 in 2007, according to the most recent statistics available. In the county, the number of dairies dropped from 29 in 1987 to only seven in 2007. To stay in business, many farmers are being forced to diversify and refocus their efforts to survive.
Many small dairy farmers who invested in organic milk years ago are now seeing gains in other dairy products such as yogurt, kefir and specialized cheeses.  Farms are also finding new ways to attract customers as many are heading to local farmers markets and farm stands. One thing is for sure, the next 10 to 20 years will generate an opportunity for farmers who endure these challenging times and are willing to diversify and explore new ideas.