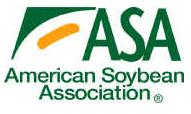 By American Soybean Association,
July 29, 2010… Saint Louis, Missouri… The American Soybean Association (ASA) this week suggested key steps to meeting President Barack Obama's National Export Initiative (NEI) goal of doubling exports in the next five years in comments to the U.S. Department of Commerce. The comments came in response to a request from the Obama Administration published in the June 30, 2010, Federal Register.  "Soybeans and soybean products are the most important U.S. export commodity, with export sales exceeding $21 billion last year," said ASA President Rob Joslin, a soybean farmer from Sidney, Ohio. "This represented over 50 percent of U.S. soybean production and 21 percent of total U.S. ag exports in 2009. In short, soybean producers are in the vanguard of efforts to improve the U.S. trade balance."
ASA believes that achieving the NEI goal will require:

– Approval of pending Free Trade Agreements (FTAs) with Colombia, South Korea, and Panama;
– Renewal of Presidential Trade Promotion Authority
– Negotiation of new FTAs with countries that have the potential to significantly expand imports of U.S. products;
– Ensuring that other countries as well as the U.S. comply with existing trade agreements;
– Removal of restrictions imposed by the U.S. that hinder food and agricultural sales to Cuba;
– Negotiation of a balanced and commercially meaningful Doha Round World Trade Organization (WTO) agreement;
– Taking action against the use of Differential Export Taxes used by U.S. competitors to effectively subsidize the export of processed products.
ASA believes that the most important step to doubling exports is the prompt approval of pending FTAs between the U.S. and Colombia, Panama, and South Korea. As of June 2010, 186 FTAs have been negotiated and reported to the WTO by other countries. Another 134 agreements are currently in negotiation, for a total of 320 FTAs in which the U.S. is not engaged. In contrast, the U.S. has 17 FTAs in place, three awaiting Congressional approval, and only the Trans-Pacific Partnership currently under negotiation.
"Clearly, much of the rest of the world is moving forward rapidly to expand bilateral trade while the U.S. is at a virtual standstill," Joslin said. "This must change quickly if the NEI is to have any chance of success."
As a result of delays in approving the pending FTAs, the U.S. has lost market share in both Colombia and Panama. In Colombia, a decline in the value of U.S. soybean meal imports of 69.1 percent, from $98.9 million in 2008 to $30.6 million in 2009, was responsible for an overall reduction in U.S. exports of soy and livestock products of 34 percent, from $244.1 million to $161.1 million. In Panama, U.S. soybean meal imports fell by 12.2 percent, from $59 million in 2008 to $51.8 million in 2009, accounting for a 6.9 percent decline in U.S. soy and livestock sales.
"In order to move forward on the NEI agenda, the Administration needs to reach consensus with Congress on the scope of FTAs and the priority of approving these concluded agreements as soon as possible," Joslin said.
"In today's political climate, prospects for achieving any of the steps outlined by ASA are easily discounted," Joslin said. "Nonetheless, if the NEI goal to double U.S. exports by 2015 is to be seriously pursued, we believe all of them are necessary. ASA is ready to work with the Administration and with Congress to make this important objective a reality."
ASA's complete comments are available at: www.SoyGrowers.com/policy/NEI_Comments072610.pdf.
ASA represents all U.S. soybean farmers on domestic and international issues of importance to the soybean industry. ASA's advocacy efforts are made possible through the voluntary membership in ASA by over 22,500 farmers in 31 states where soybeans are grown.