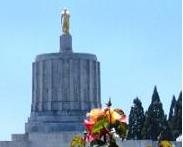 By State Senator Jason Atkinson,
Last year, California ended the practice of dredge mining in its rivers. With the ban in effect, out-of-state miners have flooded into southern Oregon rivers armed with $25 permits issued by the state.
I've a long history with "The New 49'ers," the miners association that organizes equipment and permits for dredge miners. I've seen what its members have done to some of the great rivers in the West. Dredge miners dump all the material they remove from a river bottom downstream, changing the entire structure and hydraulics of streams and their fish habitat. They squat on public land, not in campgrounds. They live next to their rigs the entire season. The responsibility to make them move on falls on local law enforcement. As someone who has represented two large southern Oregon counties for more than a decade of meager public safety funding, I'll tell you that our sheriff's officers don't need this chore.
Dredge mining was an issue when I was first elected to Oregon's House of Representatives in 1999. While I didn't have the ability at the time to stop the practice, I worked to ensure that the diameter of the vacuum pipes that miners use were limited, that dredge material was placed upstream instead of downstream, and that miners must fill the holes they create in stream bottoms.
As I did then, I still support Oregonians pursuing recreational gold panning, but I didn't want out-of-state commercial permits allowed in Oregon. That hasn't been an issue for years, but with the new California ban in effect, miners from across the United States are rushing into southern Oregon.
If you believe in protecting Oregon's rivers, you too should be outraged. If you're a taxpayer and believe in private property rights, you should be outraged. If you're a farmer who manages your land, you should agree this is wrong. No Oregonian has the right to go to Texas, Indiana or North Carolina (just a few of the state license plates I saw on miners' vehicles on the Rogue River) and dredge-mine their rivers' spawning grounds. So why are we providing that ability here in Oregon?
I'm an unashamed, passionate steelheader, and I'm raising the fifth-generation Atkinson fly-flinger. Two weeks ago my 7-year-old and I caught trout and released them by a sandy bar next to our favorite run on the Applegate River. Days later, that same sandy bar had an out-of-state dredge miner on it when I arrived with Oregon Labor Commissioner Brad Avakian. Twenty-five bucks gave him the "right" to camp for months on public ground, set up a modern mine, transfer gasoline from the bank to his rig on the water, and destroy what the local community — from both agriculture and conservation interests — agreed was worth protecting.
I asked to see the miner's permit and talked to him about his intentions. It was simple: He was going to use larger-diameter vacuum hoses, move material downstream and suck the riverbed dry of gold. Then he planned to move on to the next river.
I asked: "Did the state agencies who gave you the permits tell you how long you could camp here and what the Oregon restrictions are regarding sensitive fish habitat?"
The answer: "No."
Private property advocates, taxpayer groups and the environmental community all have a reason to work together to stop this practice. Rafters, fishermen and Oregon's river boating industry should join in. In Oregon, we're proud of our rivers and have worked together for years to protect them, and we shouldn't allow this dredge mining.
Let me be less diplomatic than former Gov. Tom McCall when it comes to out-of-state dredge miners: Welcome to Oregon; now leave.
— see The Oregonian