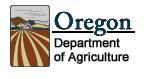 Ag hopes to save more energy from every drop of water
— ODA announces irrigation energy efficiency grant awards
By Oregon Department of Ag.
As a whole, Oregon agriculture does a pretty good job getting the most out of every drop of water it needs. Oregon farmers and ranchers hope to get the most out of every bit of energy used to apply that water now that nearly $1 million in federal funds has been awarded to five in-state recipients of irrigation efficiency block grants.
"Many of our growers are already using highly efficient systems, and many more are interested in making efficiency improvements," says Stephanie Page, renewable energy specialist and project manager with the Oregon Department of Agriculture. "This program offers a great way for irrigators to get cost-share for irrigation efficiency improvements that benefit the grower, the utility, and the environment."
Water is the lifeblood of agriculture. In Oregon, irrigation is a necessity as rainfall is relatively scarce during much of the growing season throughout the state. Irrigation is used on about half of Oregon's total crop land- about 1.7 million acres. Nearly 45 percent of Oregon's growers rely on irrigation. However, that irrigated land produces 77 percent of the value of all the state's harvested crops.
The focus of the block grant program is to save energy, but there are additional benefits.
"There will definitely be water savings from some of these projects," says Page. "There could even be fertilizer savings because growers will be able to manage water applications more efficiently."
Oregon's irrigation systems often use state-of-the-art technology. Advancements include low-pressure systems and sprinklers, soil moisture testing linked to weather data, and computer controlled irrigation. Irrigation has truly moved into the 21st century, but there is always room to improve energy efficiency connected to the water use. That's where the grants come in. Money has been made available from State Energy Program funds awarded to the Oregon Department of Energy (ODOE) through the American Recovery and Reinvestment Act stimulus funds (ARRA), and the US Department of Energy.
"We're excited about our partnership with ODA," says Paul Egbert, acting manager of ODOE's ARRA team. "This is a unique opportunity to impact energy and water savings, and to help Oregon growers operate more efficiently."
Five grants have been awarded to applicants representing growers east of the Cascades. Some projects are looking at similar ways to spend the money, others are unique. Two of the more common expenditures will be on scientific irrigation schedule and variable speed drives.
"Scientific irrigation scheduling looks at a variety of factors- such as the crops being grown, the soil type, what kind of irrigation water application system the grower has- and a plan is developed that determines the appropriate amount of water for the crop during the season," says Page. "It also involves installing soil moisture monitoring equipment and using weather information to help make decisions about when to irrigate. Variable speed drives allow the grower to use just the amount of energy they need to pump the water. Without one, a pump motor operates at full speed all the time, even if it isn't necessary."
All the funded projects offer an energy savings benefit for growers. Some save both energy and water.
The grant recipients include:
* Wy'East Resource Conservation & Development Council: This project focuses on scientific irrigation scheduling in the North Unit Irrigation District in the Madras area. Grant funds will help support soil moisture monitoring equipment that help growers decide when to apply irrigation water, and technical assistance to interpret data from the soil moisture monitoring equipment. The project has significant co-benefits in terms of water savings and water quality.
* Wasco County Soil & Water Conservation District: This project will fund irrigation pump upgrades and variable speed drives as well as scientific irrigation scheduling, all within the Fifteenmile Watershed in Wasco County. The project also has significant co-benefits in terms of water savings and water quality.
* Columbia/Blue Mountain Resource Conservation & Development Council: This project will support energy audits and efficiency improvements such as irrigation pump upgrades and variable speed drives. The project area is large – it includes Gilliam, Wheeler, Moro, Grant, and Umatilla counties, with the potential for additional areas.
* Klamath Soil & Water Conservation District: This project will fund pump upgrades and variable speed drives for irrigators in the Klamath Basin.
* Three Sisters Irrigation District: The district plans to use grant funds to upgrade an irrigation pump within the district. This will help the district save energy and reduce energy costs for irrigation water delivery.
With some of the unallocated funds, ODA plans a follow-up request for proposals for the Willamette Valley and Oregon coast- regions that did not submit any applications in the previous round.
Growers located within the five funded projects are encouraged to contact the grant recipients for more specifics about how they can participate. Irrigators not covered by these projects can contact ODA or ODOE to learn about other energy efficiency projects and grants outside the State Energy Program funds.
"We hope these types of programs encourage irrigators to buy more energy efficient equipment so they can save money on their own operations," says Page.
Saving energy saves money for growers. Funding for the five projects will help growers with the up-front cost of installing more efficient equipment. Hopefully, that investment will pay itself back quickly because of the energy savings it generates.
For more information, contact Stephanie Page at (503) 986-4565.