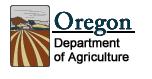 Oregon net farm income takes large drop in 2009
By Oregon Department of Agriculture
Production value way down last year, but 2010 looks better
Reflecting the struggling US economy in general, the bottom line for Oregon's farmers and ranchers last year was pretty dismal. "Net farm income dropped 41 percent last year from 2008, making it the lowest mark in seven years," says Brent Searle, analyst with the Oregon Department of Agriculture. "If any of us think about taking a 41 percent cut in pay, well, that's pretty staggering." A newly released economic snapshot of Oregon agriculture shows net farm income at just under $563 million in 2009. The latest numbers continue the downward trend of net farm income in Oregon since 2004's record high of $1.3 billion. The good news is that early signs indicate 2010 may be noticeably better when the final ledger is published a year from now.
"Oregon is part of a national agriculture economy that has been affected by the same pressures influencing all sectors," says Searle. "Hopefully, we have bottomed out and a turnaround is underway."
Net farm income is the amount retained by agricultural producers after paying all business-related expenses. It is considered an important indicator of the agricultural economy's overall health. The number does not account for payments on land purchases, family living expenses, or family health insurance. Statistics provided by the U.S. Department of Agriculture's Economic Research Service (ERS) show net farm income is a cyclical phenomenon.
"What's going on right now is following past patterns," says Searle. "A downturn isn't anything new, but the magnitude of last year's net farm income drop is significant."
Net farm income bottomed out in 1983 at $283 million, then peaked in 1992 at $681 million and in 1997 at $672 million. Times were tough once again in 2000 ($407 million) and 2001 ($433 million) before the number more than doubled in 2003, pushing over the one billion dollar mark for the first time. By 2007, net farm income in Oregon began to drop back down once again, as farm expenses took a bigger bite out of a healthy production value.
What is unusual about last year's huge drop is that expenses essentially played no role. The value of production was the main cause for the gloomy bottom line.
"Last year was the first time in many years that the value of production decreased, and it dropped way down in both crops and livestock," says Searle.
Production value reflects the prices paid to growers for what they produce. The value of Oregon crop production in 2009 fell to just over $3 billion- a decrease of about 13 percent, while the value of Oregon livestock production was $923 million- a decrease of about 12 percent.
Specifically, grain crops fell 23 percent, largely because of the low prices received by growers. All other categories important to Oregon agriculture saw similar, if smaller, decreases in production value, including nursery, grass seed, fruit, and vegetable crops. On the livestock side, the production value of meat animals, primarily beef cattle, decreased 21 percent. Dairy products fell even harder, at 26 percent. Poultry and eggs dropped 16 percent.
The expense side of the balance sheet, which had steadily gone up in recent years, actually went down in several categories even though, overall, purchased inputs increased slightly by two percent.
"The expenses paid by producers for pesticides, fertilizers, fuel, and electricity were down across the board," says Searle. "In this economy, farmers were more prudent in using these manufactured inputs. They were careful about how much they bought and used. Both the price of these inputs and the volume purchased were down in 2008. That certainly softened the blow a little bit. The net farm income for Oregon last year would have been even more bleak had these costs been higher."
Labor continues to be the greatest cost incurred by agricultural producers. But even the category of employee compensation was down last year by about two percent. The total expenditure for labor dropped for the first time since 2001. With income significantly down for farmers and ranchers last year, they simply purchased less inputs and labor.
The 2009 net farm income figures for Oregon's neighbors also show sizable drops. Washington fell 43 percent and Idaho decreased 49 percent over the previous year. California fared much better, only dropping 11 percent in last year's net farm income. The national average fell 28 percent in 2009, after increasing in 2008.
It will be late summer of 2011 before this year's balance sheet is finalized. But with more than half of 2010 already completed, the early forecast portends an improved net farm income.
"I think it will be better for Oregon agriculture," says Searle. "We are seeing signs of stabilization in the dairy industry and some spikes in the price of grain due to events around the world. So there are signs that some of these commodity prices have stabilized. The question is whether the expense side has stabilized. Hopefully, we are on the upswing, although it may take a couple more years to complete."
US Agriculture Secretary Tom Vilsack echoes a hopeful tone after commenting on recent USDA reports that show strength of the overall rural economy as well as growth in agricultural exports. According to one report, net farm income at this point is up 24 percent from 2009 nationwide.
"As the rest of the American economy climbs out of the recession, American agriculture is helping lead the charge," says Vilsack. "As they have time and time again, American farmers and ranchers are staying resilient and working to support a foundation of economic prosperity for the rest of the nation."
Hopefully both national and state numbers will confirm the rebound when they are finalized next year.
For more information, contact Brent Searle at (503) 986-4558.