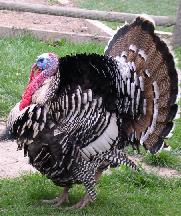 Hunters: Return turkey crops for research
By Oregon Department of Fish and Wildlife
SALEM, Ore.—Successful turkey hunters, please return your turkey's crop (the thin, transparent sack at the base of the turkey's neck) to ODFW for a research project.
Oregon State University, ODFW and Washington Dept. of Fish and Wildlife will use the crops to determine the food habits of turkeys. Other research will look at their ability to disperse seeds. The project should help improve turkey management programs in both states and shed light on the role turkeys play in Northwest ecosystems.
To assist with the research project, remove your turkey's crop, place it in a zip-lock freezer bag with your name, home address, date, time and location the bird was shot, and sex of bird labeled with a permanent marker on the bag.
Crops can be dropped off at any ODFW district or field office (hatcheries excluded) during business hours or request a postage pre-paid envelope by emailing [email protected] or calling 503-947-6324.
Crop collection began during the 2010 spring turkey season. So far, 225 turkey crops have been collected from Oregon and Washington.
"This is a good number, but we are hoping to get about 360 crops to meet sample size needs," said Dave Budeau, ODFW upland bird coordinator. "We would really welcome the submission of additional crops this year."
General fall turkey season runs Oct. 15-Dec. 31 in most of western Oregon. Controlled (limited-entry) seasons in northeast Oregon and the White River Unit began Oct. 9.