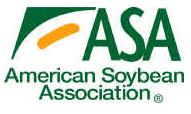 ASA Thanks Sec. Vilsack for Biofuels Support, Urges Congress to Pass Biodiesel Tax Incentive During Lame Duck Session
American Soybean Association
October 21, 2010…Saint Louis, Missouri… The American Soybean Association (ASA) appreciates comments made today by U.S. Department of Agriculture (USDA) Secretary Tom Vilsack on the importance of continuing to develop and expand our domestic renewable biofuels industry, including support for the extension of the biodiesel tax credit and implementation of the Section 9005 Bioenergy Program for Advanced Biofuels.
"ASA applauds efforts by USDA to promote biofuels use and invest in the facilities and infrastructure needed to incorporate more biofuels," said ASA President Rob Joslin, a soybean producer from Sidney, Ohio. "The United States needs to promote production of fuel from renewable sources like soybeans."
Biodiesel is a renewable and sustainable energy source that can play a significant role in our national efforts to increase our energy security and improve our environmental footprint. The biodiesel industry creates valuable green jobs and makes a positive contribution to the economy.
"At a time when jobs and renewable energy production are cited as top priorities, it is unacceptable that Congress would fail to extend the biodiesel tax credit," Joslin said. "The biodiesel tax credit has a direct impact on jobs and it supports a homegrown renewable energy source – the first and only advanced biofuel commercially produced in the United States. We must get Congress to make a retroactive and multi-year extension of the vital biodiesel tax credit a priority to pass during the lame duck session."
Jobs and opportunities to expand production of a domestically produced advanced biofuel have been lost as a result of the lapse of the biodiesel tax credit on December 31, 2009.
"Incentives helped build the biofuel industry and incentives need to continue," Vilsack said this morning during a speech to the National Press Club in Washington, D.C. "Congress should start by reinstating the Biodiesel Production Tax Credit and providing a fiscally responsible short-term extension of the Volumetric Ethanol Excise Tax Credit."
Vilsack went on to say that the increased production and use of biofuels is needed to meet our future energy demands and reduce our dependence on foreign oil.
Secretary Vilsack also cited the importance of the Section 9005 Bioenergy Program, and he directed, "that work on the final rule be completed by the end of this year making these funds available." ASA played a leading role in the inclusion and funding of this program in the 2008 Farm Bill. ASA has continued to work with USDA on implementation of the program and has urged that the final rule be completed so that the much needed available funds can get out to eligible producers of advanced biofuels, including biodiesel, as soon as possible.
ASA represents all U.S. soybean farmers on domestic and international issues of importance to the soybean industry. ASA's advocacy efforts are made possible through the voluntary membership in ASA by over 22,500 farmers in 31 states where soybeans are grown.
–30–