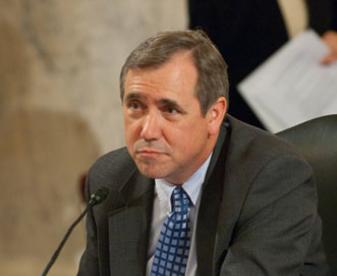 Obama Administration Announces New Gas Mileage Standards for Heavy-duty Vehicles
"Proposed Standards Consistent with Proposal in Merkley Oil Independence Plan"
By Oregon U.S. Jeff Merkley
Portland, OR – The Environmental Protection Agency (EPA) and the U.S. Department of Transportation today announced the first national gas mileage and greenhouse gas emissions standards for heavy-duty trucks and buses, set to start in 2014. According to the EPA, the new standards are projected to save 500 million barrels of oil over the lives of vehicles produced within the program's first five years, and produce $41 billion in net economic benefits.
"Better gas mileage is going to be a major part of reducing America's dependence on foreign oil and strengthening national security," Merkley said. "Any business that depends on vehicles, from small construction companies to major shipping companies, will benefit by driving more miles on less fuel."
The program will reduce the pollution that causes global warming by nearly 250 million metric tons and save owners or operators of the vehicles money on fuel. EPA estimates that a semi truck operator could save enough on fuel in less than a year to pay for the technology upgrades, and save as much as $74,000 over the truck's useful life.
The proposal is in line with the roadmap to oil independence that Senator Merkley introduced in June 2010.
Senator Merkley's Oil Independence Plan is available for review at: http://merkley.senate.gov/imo/media/doc/Senator%20Merkley%20-%20America%20Over%20a%20Barrel%200614101.pdf
Details of the Obama Administration's proposed new fuel efficiency and greenhouse gas emission standards are available at: http://www.epa.gov/otaq/climate/regulations/420f10901.pdf
The EPA and the National Highway Traffic Safety Administration are providing a 60-day comment period beginning today.