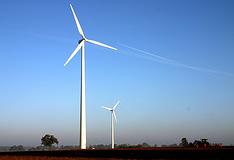 Oregon wind power and wind energy projects gets bad blowback
Natural Resource Report News Note:
Oregon's ever expanding wind power farms has been one of the most heralded political achievements in the state.   Now there is  citizen opposition efforts against wind energy and wind power projects being led out of health concerns over noise, stress and  lights.  The public turning on these wind projects is putting at risk millions of development dollars that seemed inevitable years prior .
The Oregonian ran a front page story on the citizen complaints and private efforts to stop wind power farms in their backyard.   In Union County, residents voted against the siting of a local wind farm project.   Citizens previously have stopped a turbine project in the The Dalles-to-Mosier area.
Read article here.