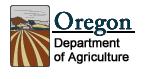 Agriculture remains a key provider to the Oregon Food Bank
By Oregon Dept. of Agriculture,
Oregon farmers and ranchers continue putting food on the plate for many of the state's most vulnerable citizens, even as the need for hunger assistance reaches unprecedented levels. Donations from such organizations as Farmers Ending Hunger remain strong despite the fact that the agriculture industry is not immune to a struggling Oregon economy. As 2010 draws to a close, the group's efforts are coming close to last year's record setting 2.1 million pounds donated to the Oregon Food Bank. There is reason to believe 2011 will eclipse that record.
"One thing has become very clear since our organization got started four years ago," says John Burt, executive director of Farmers Ending Hunger (FEH). "When presented with a challenge and an issue like the rising tide of hunger in Oregon, our farmers, ranchers, and food processors always step up."
Since the initial delivery of 173,000 pounds of frozen peas in November 2006, FEH has steadily grown its donations to the Oregon Food Bank, despite an understandable slight drop from 2009. This year's commodities include 660,000 pounds of potatoes, 350,000 pounds of onions, 165,200 pounds of fresh vegetables, 130,000 pounds of beef, and 200,000 pounds of wheat, in conjunction with the Oregon Wheat Foundation. Most donations have been delivered to the Oregon Food Bank in product form such as pancake mix eventually packaged into 18 ounce bags, frozen hamburger in two pound packages, 10 pound bags of potatoes and onions, frozen green beens, carrots and peas packaged into two pound bags, canned sweet corn, and fresh sweet corn, cauliflower and winter squash.
In total, donations through Farmers Ending Hunger have reached more than 4 million pounds of food since the program began in 2006.
For 2010, the demand for hunger assistance is critical because of Oregon's high unemployment and the overall economy. Oregon is routinely ranked one of the top five hungriest states in the nation.
"When I started with the Oregon Food Bank in the early 1980s, we were serving about 200,000 people," says OFB Executive Director Rachel Bristol. "Now it's close to a million people who are eating out of emergency food boxes at some time during the year. That's nearly 7 percent of Oregon's population that goes hungry during the year."
As expected, overall food donations are down 9 percent compared to last year and food prices are going up- all at a time when the demand has increased. The ability for OFB to go out and buy food is much more difficult. Donations from FEH and the state's food industry- food processors, wholesalers, and retailers- are the primary source of giving. Retail outlets themselves are responsible for 7 million pounds a year coming to the Oregon Food Bank.
"We bring in truck loads of product, a lot of fresh food from farmers," says Bristol. "In fact, in this state, we've had to get ahead of the curve nationally in being able to handle fresh and frozen product."
The Oregon Food Bank has had to build the capacity to handle bulk products, both fresh and frozen. Last year, some $2 million was spent throughout the network for freezers and refrigerators.
FEH does its best to get the product suitable for a food box. For instance, the 225,000 pounds of pancake mix supplied to Oregon Food Bank this year relies on the cooperation of several parties that have a hand in the commodity. Farmers Ending Hunger and the Oregon Wheat Foundation provide the raw product. Pendleton Flour Mills turns the wheat into flour. Continental Mills then turns it into pancake mix. Dairy cattle donated by Columbia River Farms in Eastern Oregon is turned into hamburger with the help of Walt's Wholesale Meats in Woodland, Washington and then packaged by Interstate Meat Distributors of Clackamas, Oregon. Willamette Valley farmers donate processed vegetables- some of which is canned by local processors such as Truitt Brothers and Norpac Foods- and then bagged as a frozen product by volunteers from Marion-Polk Food Share. The collaboration within the agriculture industry allows the donations to be in a form people can use.
"We've figured out ways of doing things that don't cost as much and we have some new partners that help pay for things," says Burt. "But we really need the public to become a partner and donate."
The effort is now focusing on expanding the base of contributors, both on the farm and in the non-agriculture community. There is a role for everyone. Farmers agree to donate a portion of their crop prior to harvest. Processors agree to donate a portion of the cost of processing. Farmers Ending Hunger raises funds to pay for the remaining processing, packaging, and transportation. The public participates through the unique "Adopt an Acre" program to help pay the cost of getting the product processed and delivered to the food bank.
Last year's donations to "Adopt an Acre" reached $33,000. Burt is hoping that 2011 will bring in more involvement from all kinds of Oregonians.
"We're trying to get more businesses, even non-agricultural businesses, involved and making the local connection to agriculture," he says. "Farmers are donating, the farm service industry is stepping up too. We've been successful in securing some grant money as well. But we need many more donations. We are primed to grow and we have a goal of reaching over 3 million pounds of food next year."
One of the founding members of Farmers Ending Hunger is Bob Levy of Hermiston, also a member of the State Board of Agriculture.
"It's encouraging to see that we approached a record high in donations even though it was a tough year for agriculture," says Levy. "Farmers Ending Hunger has a good four-year track record that bodes well for the future. But we know the need for hunger assistance in Oregon and throughout the country will always be there. We also hope organizations like ours and others will always be there to help."
For more information, contact John Burt, (503) 931-9232.