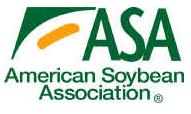 5,000 Afghan Families to Benefit
American Soybean Association
December 20, 2010… Saint Louis, Missouri…The American Soybean Association's (ASA) World Initiative for Soy in Human Health (WISHH) and U.S. Department of Agriculture (USDA) representatives participated today in the final preparations of a shipment of soy flour to Afghanistan. The 3,525 50-pound bags of soy flour shipped from the Port of Virginia will deliver the benefits of high-protein soy to 5,000 women and their families in Afghanistan.
ASA and state soybean leaders from Virginia, North Carolina and Illinois joined USDA Foreign Agricultural Service Associate Administrator Janet Nuzum at ARREFF Terminals in Portsmouth, Va. for loading of the soy flour. They then went to the Port of Virginia where the five containers were shipped. USDA purchased the soy flour as part of its cooperative agreement with ASA under the USDA Food for Progress Program. Cargill's Cedar Rapids, Iowa facility produced the soy flour, which readily increases the protein content of traditional naan breads as well as makes soymilk and other foods.
Once the soy flour completes its 7,000-plus mile journey, WISHH and its partners will work with the Afghanistan Ministry of Women's Affairs to distribute "family size" portions of the soy flour to 5,000 pregnant and lactating women and their families for four months.
"We applaud USDA for putting soy flour to such good use," said ASA Board member Bruce Hall, a soybean grower from La Crosse, Va. who witnessed the loading. "Soy is an important tool to improve individual lives as well as the economies of developing countries."
WISHH launched the USDA-funded Soybeans in Agricultural Renewal of Afghanistan (SarAi) project this year. The multi-faceted effort uses soybeans to benefit Afghan farmers, food processors, and rural communities, as well as women and children. It provides a total of 240 metric tons of defatted soy flour, 13,750 metric tons of soybean oil and 6,000 metric tons of soybeans over three year. Over the life of the program and all of its activities, this project will benefit more than 405,000 Afghan people.
Joining WISHH on the project are: CBI Global located in Ohio; California-based Nutrition and Education International Inc. (NEI); SALT International of Iowa; and Shelter for Life International, which is headquartered in Minnesota.
According to UNICEF, more than half of Afghan children under five suffer from moderate or severe stunting. Twenty five percent of children die before reaching their fifth birthday. The health of rural Afghan people, particularly women and children, is often the worst in the nation.
The WISHH program is managed from ASA's world headquarters in Saint Louis. Since U.S. soybean farmers founded WISHH in 2000, WISHH has worked in 23 countries to improve diets, as well as encourage growth of food industries. Please visit www.wishh.org for more information.
ARREFF Terminals has provided Port Of Virginia transloading services for agricultural bulk and bag products for the last 20 years. The facility boasts dedicated on-site trucking, six rail tracks, and capacity to handle 35 railcars, with service provided by both Norfolk Southern and CSX.
–30–