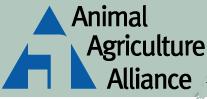 Deceptive Videos Unfairly Attack Farmers
Animal Agriculture Alliance
December 15, 2010 – Farmers and ranchers dedicate their lives to the health and well-being of their animals in order to ensure that the food they produce for the public- and their own families- is wholesome and safe. Animal care is a top priority of our nation's food producers.  To demonstrate that commitment, more than 50,000 pork producers from across the United States have earned their Pork Quality Assurance Plus certification. Farmers enroll in this science-based program to ensure high standards of animal well-being on their farms and to maintain food safety.
If you would like to learn more about today's pig farms, visit the Animal Agriculture Alliance's Youtube channel to watch a collection of videos, including farm tours and interviews with the people who help put food on your table.Today, America's farm families are under attack from activist groups such as the Humane Society of the United States. These extremists attempt to use emotional images and scare tactics to discourage Americans from eating meat, milk and eggs because they do not believe that we have that right.
Distributing highly edited videos – generally obtained using illicit tactics – via the Internet has proven to be a highly effective way for activist organizations to raise money and gain support for ballot initiative campaigns.
Many times, the "undercover" videographer goes weeks, or even months, before releasing the footage at a politically-opportune time. Why aren't these individuals held accountable for their failure to report animal neglect instead of allowing the alleged mistreatment to continue? Often, they are guilty of breaking company animal care policy that requires all concerns of animal neglect or mistreatment be reported immediately in order to investigate and eliminate the problem.
Please take time to seek the farmer's side of the story when you are presented with emotionally-charged presentations by activist groups that stand to benefit financially from these attacks. The vast majority of food producers work long hours ensuring that their animals are well-cared for.
The Animal Agriculture Alliance condemns all animal abuse- whether on farms, in processing plants or in the home. As a diverse coalition working to promote farmers' commitment to their animals, we have long promoted implementation of animal care programs developed by the national farm and ranch organizations in conjunction with animal care specialists and veterinarians.
Don't just take our word for it- or that of animal rights activist groups. Get to know your local farmers and ranchers and ask them directly about their commitment to animal care and to providing safe, wholesome food for you and your family.
About the Alliance:
The Animal Agriculture Alliance, a 501(c)(3) non-profit organization, is a broad-based coalition of individual farmers, ranchers, producer organizations, suppliers, packer-processors, scientists, veterinarians, and retailers. The Alliance's mission is to communicate the important role of animal agriculture to our nation's economy, productivity, vitality, and security. The Alliance shows how animal well-being is central to producing safe, high-quality, affordable food and other products essential to our daily lives.