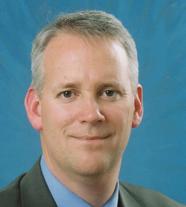 The state Board of Forestry Wednesday selected Doug Decker, a Department of Forestry executive and leader of several major agency initiatives in recent years, as Oregon's next state forester.
By Oregon Forestry Dept.
Decker will assume his duties on February 1, succeeding Marvin Brown, who resigned effective last December 31. "Doug is an excellent communicator and understands the challenges facing the Oregon Department of Forestry," Blackwell said. "He has the skills to bring ODF into better alignment with a multitude of stakeholders, and to keep the department focused on its mission.
"Doug understands the leadership role required of the state forester, and is deeply committed to building on the agency's 100-year legacy of forest protection and management."
Decker, of Portland, most recently has been acting chief of the department's state forests division. He began with the agency in 1987 as a public affairs specialist, and served as public affairs director from 1990 to 1996.
He led development of the Tillamook Forest Center, an interpretive facility in the Tillamook State Forest, from 1996 to 2006. Most recently, he oversaw acquisition in Central Oregon of the Gilchrist State Forest, Oregon's first new state forest in more than 60 years.
He holds a bachelor's degree in journalism from the University of Montana.
"I am deeply honored to be selected for this job and look forward to working with the board, the Governor and our many stakeholders and partners to shape the conversation about forests and forestry," Decker said.
The selection followed a recruitment process, coordinated by the Oregon Department of Administrative Services, that included a nationwide search.
Decker was selected from a field of 12 candidates who met qualifications for the position.
On Wednesday, the board chose Decker from among three finalists. Although the vote was 4-2, all members expressed support for Decker, and said all three finalists were well qualified. The others were Paul Bell, associate state forester at the department and chief of its fire protection division, and Jim Paul, an assistant director at the Oregon Department of State Lands and former Department of Forestry executive.
Oregon's state forester carries out the board's overarching policies through leadership of the Department of Forestry. The state forester serves as director of the department, which provides services including preventing and fighting wildfires, managing state-owned forests, enforcing natural resource protection laws on private forestlands, advising landowners, and providing urban forestry assistance.
The agency has about 650 employees and a two-year budget of about $303 million.
The audio file from today's Board of Forestry meeting is available.
####