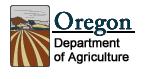 ODFW plant give-away this Wednesday
Oregon Dept. of Fish and Wildlife
ROSEBURG, Ore. – On Tuesday, March 1, Douglas County gardeners and nature enthusiasts can celebrate spring with the Oregon Department of Fish and Wildlife's annual plant give-away. The event is 9 am – 1 pm at the ODFW Roseburg office, 4192 N. Umpqua Highway. Gardeners are limited to three plants per person.
The free plants provide forage for big game, birds, amphibians, reptiles and various mammals. It also gives people an alternative to artificial wildlife feeding.
This year's free bare-rooted plants are: redtwig dogwood, dewberry, Oregon ash, blue elderberry, western crabapple, coast black gooseberry and bay laurel. The plants all require moist soil and partial and/or full sun.
This annual ODFW tradition is paid for by the ODFW habitat program, Oregon hunters and federal Pittman/Robertson Act funding. To emphasize this source of funding, gardeners and nature enthusiasts who are also hunters can move quickly through an "express" line upon showing their 2011 hunting license.
###