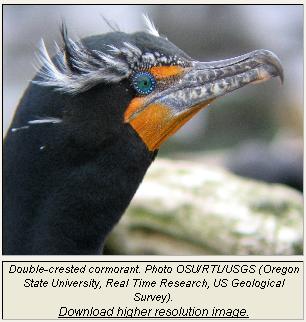 Hazing of birds in Tillamook and Nehalem bays to protect migrating juvenile salmon and steelhead begins April 1
By Oregon Department of Fish and Wildlife
Newport, Ore.— Hazing of double-crested cormorants that eat juvenile salmon and steelhead on their migration from freshwater rivers to the sea will begin on April 1 in Tillamook and Nehalem bays.
Tillamook Bay operations will be conducted from April 1 through May 31 by the North Coast Salmon and Steelhead Enhancement Fund to protect the hatchery and wild coho and winter steelhead that are migrating through the estuaries. Data collection work on how harassment affects the distribution and behavior of cormorants will be conducted through Tillamook County.
Nehalem Bay operations will be conducted by the Port of Nehalem from April 1 through April 30. In both locations, a boat or jet ski will be used to push cormorants to the lower bays where the birds can feed on a greater diversity of prey items.
Hazing of cormorants consists of disturbing the birds, scaring them without harming them, with swift-moving watercraft and is conducted under the direction of Oregon Department of Fish and Wildlife staff.
Fish Species Status
Coastal coho salmon that use streams and rivers from the Necanicum River in the north to the Sixes River in the south are federally listed as a threatened species. Nehalem River and Tillamook estuary basin coho are state sensitive species. Winter steelhead of the Nehalem River and Tillamook estuary basin are state sensitive species.
Research
A data collection project to identify potential avian predation hotspots will take place on the Coquille estuary from March 19 through April 30 under a contract with the Port of Bandon. Hotspots of avian predation occur where fish are grouped, such as during the outmigration of hatchery fish, attracting aggregations of predators.
In addition to hazing efforts, ODFW and partners are exploring options for research and monitoring of fish-eating birds in relation to their impact on vulnerable fish runs, looking for long-term solutions. However, management of avian predators on fish populations is complex and requires balancing the needs of competing species within the guidelines of federal laws that include the Endangered Species and the Migratory Bird Treaty acts.
The double-crested cormorant is a waterbird found near inland waterways as well as on the coast. They fish by swimming and diving and nest in trees, cliffs and on the ground on predator-free islands. Cormorants are protected by international treaty and federal law.