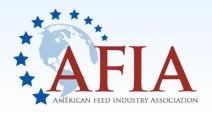 AFIA Submits Comments to FDA on Unapproved Animal Drugs
By Leslie Malone
American Feed Industry Association
Arlington, Va., April 20, 2011 – The American Feed Industry Association strongly encouraged FDA to continue regulating veterinary medical food as "foods" in recent comments submitted to FDA. AFIA members manufacture and market a range of animal feed products that are commonly referred to by both industry and FDA as "veterinary medical foods." These products are formulated from recognized—either as a food additive or generally recognized as safe (GRAS)—animal feed ingredients to help manage from a dietary and nutritional approach, a specific disease or condition under a veterinarian's supervision.
"These products have a long history of safe use and do not present any known animal health concerns," according to AFIA vice president Richard Sellers. "For these reasons, AFIA believes that it is most appropriate for FDA to continue to regulate veterinary medical foods as "foods." FDA has regulated human medical foods as "foods" and not as "drugs" since 1972 and should exercise its discretion in the same manner with regard to veterinary medical foods."
AFIA urged FDA to exercise its enforcement discretion in an equitable, transparent and even handed manner. FDA's enforcement discretion should extend to products and categories of products in which the agency has actively acquiesced, including veterinary medical foods. FDA should also publicly announce its intentions with regard to any changes in its enforcement posture for specific products or categories of product whenever possible, much like they do for unapproved human drugs.
"Veterinary medical foods are very complex issues that we think deserves additional dialogue between FDA and the affected industries," stated Sellers. "We would like to propose a national meeting that could be co-hosted by FDA and a university affiliated with the American College of Veterinary Nutrition to review how to best regulate veterinary medical foods."
Finally, AFIA urged FDA to issue guidance with regard to its general enforcement policy on unapproved products, which will result in greater certainty for the industry. Public announcements of the agency's position, rather than individual enforcements actions, would lead to a more level playing field and ensure that all stakeholders understand FDA's thinking and intentions.
AFIA appreciated the extension of the comment period in order to fully study this issue and provide comments and looks forward to working with FDA on this issue as it moves forward.