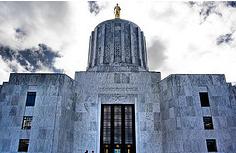 Natural Resources Day at Capitol on 4/19
By Oregon Farm Bureau
Oregon Farm Bureau and 31 other agricultural and forestry organizations will host a Natural Resources Day for lawmakers and the public on Tuesday, April 19 at the State Capitol. Gov. John Kitzhaber has declared April 19, 2011 as Natural Resources Day in Oregon by official proclamation.
A 12:30 p.m. rally of farmers, ranchers, and foresters on the north steps of the Capitol will start with addresses from House Co-speakers Rep. Bruce Hanna and Rep. Arnie Roblan, and Oregon Dept. of Agriculture Director Katy Coba. Coba will present the Governor's proclamation declaring the importance of natural resources in Oregon and officially designating April 19 as Natural Resources Day. Due to a previous commitment, Governor Kitzhaber will not be in attendance. The rally will last until 1:00 p.m.
Many farmers, ranchers, foresters, ag organizations, legislators, and experts on Oregon estate tax and ODOT farm truck safety also will be on hand for myriad interview and photo opportunities. Please see the full agenda below.
For more event details, visit www.growingoregon.org or follow us on Facebook at www.facebook.com/growingoregon.
Hope to see you there!
Event agenda
Natural Resources Day Agenda
April 19, State Capitol in Salem
9:00 a.m. ~ Informational booths for Natural Resources Day open in Capitol Galleria
11:00 a.m. ~ ODOT farm truck inspection and discussion (truck parked on north side of Capitol)
12:00 p.m. ~ Complimentary lunch served as part of Natural Resource Day
12:30 p.m. ~ Farm, Ranch, and Forestry Family Rally, north steps of the Capitol
2:00 p.m. ~ Oregon's Estate Tax: Where Do We Stand? State Capitol, Room 350
5:30 p.m. ~ Wine and Cheese tasting, Capitol Galleria