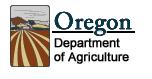 Oregon on alert for Equine Herpes Virus
By Oregon Department of Agriculture
A recent outbreak of the neurological form of Equine Herpes Virus (EHV-1) traced to a horse show in Utah has not been reported in Oregon, but veterinarians around the state have been alerted to monitor any signs of the disease. EHV-1 has been confirmed in other states including Washington and Colorado, and is suspected in Idaho.
Horses that participated in the National Cutting Horse Association's Western National Championship in Ogden, Utah from April 30 through May 8 may have been exposed to the virus.
"At this time, we have no confirmed cases of this neurological EHV-1 strain in Oregon, but we are contacting all horse owners who attended the event with their horses," says Dr. Don Hansen, state veterinarian with the Oregon Department of Agriculture.
Hansen has alerted a statewide network of veterinarians about the disease, asking them to work with their equine clients to develop plans that can help prevent EHV-1 in their horses and to report any potential cases.
EHV-1 is not transmissible to people, but it is a serious disease of horses that can cause respiratory, neurologic disease and death. The most common way for EHV-1 to spread is by direct horse-to-horse contact. The virus can also spread through the air, contaminated equipment, clothing, and hands.
Symptoms include fever, decreased coordination, nasal discharge, urine dribbling, loss of tail tone, hind limb weakness, leaning against a wall or fence to maintain balance, lethargy, and the inability to rise. While there is no cure, the symptoms of the disease may be treatable.
"Strict biosecurity measures and hygiene practices are likely to be more effective than widespread vaccination in reducing the risk of acquiring infection because available EHV-1 vaccines do not seem to protect against this virus strain," says Hansen. "Horse owners should be reassured that we have no reported EHV-1 in Oregon, but should also be aware that horses in other states may have been exposed. With many horses and their owners traveling to shows and competitions in the days and weeks to come, it is important to take potential risks into consideration and use caution."
Horse owners are encouraged to contact their veterinarian with any questions. Veterinarians are asked to call the State Veterinarian's Office at ODA with any suspected cases of EHV-1.