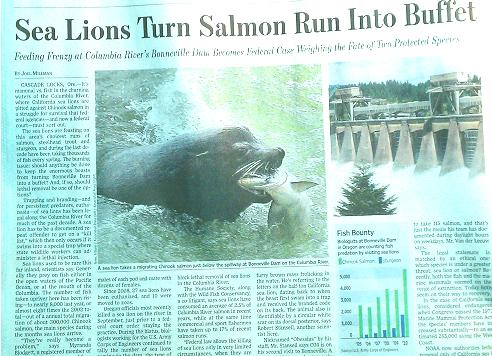 News of Oregon's battle between the protected sea lions and the Chinook salmon made national headlines. Below is what the Wall Street Journal had to say….
WALL STREET JOURNAL:  Sea lions used to be rare this far inland, scientists say. Generally they prey on fish either in the open waters of the Pacific Ocean, or at the mouth of the Columbia. The number of fish taken upriver here has been rising—to nearly 8,000 last year, or almost eight times the 2002 total—out of a annual total migration of about 300,000 Chinook salmon, the main species during the months sea lions arrive….Oregon officials most recently killed a sea lion on the river in September, just prior to a federal court order staying the practice. During the hiatus, biologists working for the U.S. Army Corps of Engineers continued to tally the number of sea lions coming to the dam, the type of sea lion—California or Steller—and data on which ones stop to feed, and how many each individually consumes.
This month, state wildlife officials in Oregon and Washington received permission to again trap and kill California sea lions deemed "problem" predators under guidelines elaborated by the Marine Fisheries Service of the National Oceanic and Atmospheric Administration. But Friday, the Humane Society of the U.S. went to court seeking to block lethal removal of sea lions in the Columbia River.