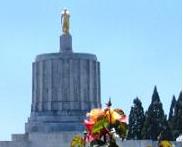 State Senator Larry George remarks on Oregon soil battle broken legislative process
By State Senator Larry George
Salem, OR ¬– Senator Larry George (R-Sherwood) had the following to say after the Senate resurrected a resolution making Jory soil the official state soil. House Concurrent Resolution 3 was soundly defeated on the Senate floor Thursday in a bi-partisan vote. The sponsor of HCR 3 responded in The Oregonian Thursday by saying, "For every action there is a reaction. It's the law of physics." The bill was brought back to life and passed Monday morning.
"This one measure is an example of the way this legislature is operating, and it is a broken process. It reflects broken priorities and unfortunately has become the modern way of doing business in the state legislature. One member has hi-jacked the entire process by holding good policy bills hostage, all to demand passage of a pet bill with zero policy impact. While legislators are throwing political fits and the Senate is bending to meet their demands, 722,000 Oregonians are on food stamps and 200,000 Oregonians are unemployed. There is no vision for policy that furthers the future prosperity of Oregon, only the pursuit of personal and political agendas. This is a gross miscarriage of leadership."