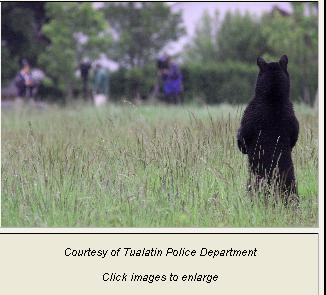 By Oregon Department of Fish and Wildlife,
CLACKAMAS, Ore. —A black bear that caused a stir at Tualatin Elementary School  was safely captured and will be released in the Coast Range.The 3- to 4-year-old male bear was first seen early in the morning in the neighborhood surrounding Tualatin Elementary School and was reported to police at 5:45 a.m. The bear then went onto the athletic field of the elementary school, prompting a school lock-in and closure for the safety of students, faculty and the bear.
ODFW and law enforcement staff from Tualatin and Tigard Police Departments, Washington County Sheriffs, and Oregon State Police Fish and Wildlife Division responded to the situation. Law enforcement officials helped corral the bear to keep it on the school field and out of the surrounding neighborhood.
ODFW staff darted the bear with a tranquilizer gun after it climbed a tree in the neighborhood across the street from the school.
When the bear did not fall out of the tree into a waiting net after being tranquilized, Tualatin Valley Fire and Rescue's Technical Rescue Team and USDA Wildlife Services safely brought the bear down out of the tree. (Read TVFR's blog for the full story.)
Bear sightings in residential areas are not unusual, and this bear was probably just looking for food. Bears are coming out of their winter dens during the spring and bears may be hungrier this year due to a poor berry crop in parts of the state last summer and fall. Vegetation growth could also be slower due to this year's cold spring and prolonged snow.
Bears should be eating insects and vegetation like grass or skunk cabbage this time of year, until wild berries ripen in July. Residents in areas of bear activity are reminded to take these steps to protect bears from getting into unnatural food sources and becoming nuisances:
* Maintain regular garbage service and keep garbage inside a garage or shed until garbage day. Wash garbage cans to eliminate odor.
* Store pet food dishes and feed inside.
* Hang bird feeders away from the side of your home or tree trunk so bears can't reach them. Store birdseed inside and keep the feeder and area underneath clean.
* Keep barbecue grills clean.
* Only compost non-food items like leaves and grass in areas with bears.
* Electric fences are a very effective bear deterrent.
Oregon is home to 25,000-30,000 black bears. For more information about black bears visit
http://www.dfw.state.or.us/wildlife/living_with/black_bears.asp