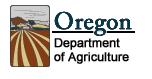 An interview with Governor Kitzhaber
By Oregon Department of Agriculture.
Oregon Governor John Kitzhaber responded to a series of questions regarding agriculture posed by ODA's Bruce Pokarney, director of communications. In the interview, the governor discusses his vision for Oregon agriculture and the important role it will play in the state's economic recovery.
What are some of your top priorities as governor for Oregon's natural resource industries, specifically agriculture?
Oregon agriculture is a huge part of our economy and supporting the agricultural economy can, on its own, help strengthen the fabric of our state's economy, smoothing out the boom/bust cycles that have plagued us in the past. I am committed to doing all that we can to grow this economy. To do this, I have introduced a four-part strategy in which we use locally what we can produce locally; we add even more value to our own products when possible right here in Oregon; we bring in fresh capital from the world through opening up new markets and increasing exports of our commodities and value-added products; and we lead the way in research and look for new ways to make agriculture more efficient and add even more value. If we can focus on these four priorities, we can make Oregon agriculture a sustainable and growing part of the economy, by getting even more new capital and keeping it engaged in Oregon even longer and to a much larger economic effect.
From your perspective, how has the agricultural landscape changed since you were first governor?
Certainly the products that Oregon produces have diversified into an incredible array. I also believe that we have an even greater opportunity to collaborate on difficult issues such as water resources. One thing that has not changed is agriculture's importance to our economy, and that is something that likely will never change.
What might you be asking of Oregon's farmers, ranchers, and fishers during your administration? Are there specific actions they can or should expect to take to move the state forward?
I hope that the industry will—as it has before—be willing to work collaboratively with me and our various stakeholders to grow agriculture in Oregon. I believe that we have built good collaborative models like the Oregon Plan for Salmon and Watersheds before, and I think there are several promising areas, such as an integrated approach to water use, in which we can make progress during my administration.
What should Oregon farmers, ranchers, and fishers ask of you and your administration? What are some reasonable expectations over the next four years?
Agriculture is our second highest traded sector segment behind technology, and in rural Oregon, it is head and shoulders above the rest. I am committed to sustaining this success and promoting Oregon agricultural products in trade missions to the international marketplace while, at the same time, looking at a number of opportunities to increase our value-added right here in the state. We can do this by engaging in other agriculture-related activities such as renewable, distributed energy, agri-tourism, and innovative programs like farm to school. I am also supportive of efforts to develop an integrated water resources strategy that will address quantity issues important to agriculture as well as all other uses for water and I encourage the agriculture community to be part of this conversation.
You have a reputation for protecting Oregon's environment and worked hard to establish the Oregon Plan for Salmon and Watersheds during your first administration. With the ag economy hurting just like other economic sectors, do you take into consideration the financial impact on farmers/ranchers as you advance your environmental agenda?
Oregon's farmers and ranchers are stewards of the land and nothing is more closely associated with Oregon than its ethic of environmental stewardship. And because of this, we have a competitive advantage associated with our reputation for high quality, wholesome, environmentally responsible products that continue to gain recognition in markets here and around the world. That said, I'm fully aware of the impact regulatory programs have on producers. That's why it is important to provide assurance and build upon the good work that has already taken place in the agricultural community.
Senate Bill 1010 and the "Oregon Plan" was one of the great "wins" in the last decade. We demonstrated that by working together voluntarily, we can address an Oregon problem with an Oregon solution—without heavy-handed prescriptive federal oversight. Agriculture made a commitment to improve water quality, restore watershed health, and protect fish habitat, and has generally kept its end of the bargain.
Although we may not always agree on everything, experience clearly shows that when we put our minds to it, develop consensus, and move forward collaboratively, there is no limit to the work we can get done. At this time it is vital for all of Oregon, urban and rural, to come together to address and work through the challenges we face.
You have noted that jobs and the economy are a top priority for your administration. Do you have any specific thoughts on creating or maintaining jobs in the ag sector?
I think there are a couple of things we can do that will have very high impact. First, it is clear that our agricultural economy brings in much needed capital through trade. I engaged in helping our products find new markets when I was Governor before and I plan to do even more this time around. Second, I think the state can play a significant role through its economic development resources to ensure that producers have access to the capital they need to purchase equipment, train employees, and engage in other activities that can help increase the number of products to which we add value right here in Oregon.
Do you have ideas on bringing urban and rural Oregon together through agriculture?
More than in the recent past, I believe that all Oregonians understand the importance of having access to good, wholesome foods and that we have good food security. I believe that through this awareness, we can help bridge the urban/rural divide. Farmers' markets and farm direct sales are extremely important to Oregon agriculture. Like everyone else, I enjoy seeing locally-grown food and agricultural products in our neighborhood grocery stores, schools, and restaurants. And through these preferences, we can begin to educate about the importance of agriculture as a critical trade sector industry in Oregon.
The state budget is facing a huge challenge for the coming biennium. Do you have a message for those who rely on agencies like ODA to deliver important programs and services?
Like all states, Oregon is facing a very, very serious fiscal crisis. But if you look beyond the big numbers, we discover that this fiscal crisis is being driven by some very disturbing trends. Oregon is on an unsustainable course into the future and we are spending more money on problems than we are investing in people. My message to all Oregonians is that the next biennium will be our most difficult, which is why we have to approach it together and approach it correctly. We are at or near a low-point in state revenues but we are at a high point in human need. Balancing our budget will require some difficult choices. It will require managing to a clear set of priorities and in a way that reflects our long-term vision. And it will require leadership to look beyond the next two years to where we want Oregon to be in 2020 and beyond.
Do you remain optimistic about Oregon's future given the current challenges, and if so, where do you expect the agriculture industry to be four years from now at the end of your term?
Yes, I remain optimistic about our future. We have an opportunity—this year—to set Oregon on a course to a bright future. It won't be easy but my budget marked the first step in shifting state investment from addressing problems after they have developed to preventing them in the first place. It funds proven job creation programs to get Oregonians back to work in the short-term and supports early childhood investment as the foundational element to achieving long-term education and economic objectives for Oregon. The agricultural industry has a large part to play. On the road to recovery, we must focus on how we can grow the economy and deliver services that create a fertile environment for that economic growth. And there is no better place to start than with agriculture. It is why people came to Oregon 150 years ago and it is every bit as important today as it was then.
Although I think it is sometimes taken for granted, agriculture is a mighty and enduring economic engine in Oregon. It is steady and reliable. Agriculture-related employment now comprises nearly 11 percent of all jobs in the state. Looking forward to the next four years of my administration, I want to pledge to you that we will do all that we can to not only to sustain Oregon agriculture…but enhance it.