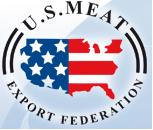 U.S. Beef, Pork Exports Close Big First Half with Solid June Results
By U.S. Meat Export Federation
Editor's notes:
– Export statistics refer to both muscle cuts and variety meat unless otherwise indicated.
– One metric ton = 2,204.622 pounds.
If the trend established in the first six months of the year holds up, U.S. beef and pork exports are likely to set several new records in 2011 and each could eclipse the $5 billion mark for the first time ever. According to statistics released by USDA and compiled by the U.S. Meat Export Federation (USMEF), June beef exports achieved the second-highest value ever at $461.8 million. This was 23 percent higher than June 2010, and has been surpassed only once – by the March 2011 value total of $475.2 million.
In terms of volume, June beef exports reached 111,362 metric tons – an increase of 15 percent over June 2010. This brought the cumulative 2011 total to 620,851 metric tons valued at $2.55 billion, which was 25 percent higher in volume and 40 percent higher in value than last year's pace. For the first half of this year, beef exports equated to 13.8 percent of total production with an export value of $192.42 per head of fed slaughter. The United States has also recaptured its position as the world's leading beef exporter, outpacing Australia and Brazil.
June pork exports were slightly higher in volume (165,786 metric tons) than last year and 6 percent higher in value ($451.2 million). This pushed first-half pork exports to 1.08 million metric tons valued at $2.81 billion – year-over-year increases of 14 percent and 19 percent, respectively. When compared to the all-time record year of 2008, the pace of this year's pork exports is 6 percent higher in volume and 21 percent higher in value. For the first half of this year, pork exports accounted for more than 27 percent of total production with export value equal to $52.76 per head.
North American markets lead U.S. beef exports, but Asia remains very strong
Tremendous June results in Mexico and Canada firmly established their positions as the No. 1 and No. 2 markets for U.S. beef. Demand for U.S. beef in Mexico continues to rebound, as exports through June were 8 percent higher in volume (126,309 metric tons) and 25 percent higher in value ($474.3 million) than in 2010. Canada was the value pacesetter in June with exports topping $96.6 million – a new monthly record. Cumulatively through June, exports to Canada were 23 percent higher than last year in terms of volume (87,334 metric tons) and 44 percent higher in value ($463.9 million).
June exports to Japan reached their highest monthly volume (17,626 metric tons) since 2003, pushing the 2011 total 50 percent higher in volume (77,298 metric tons) and 54 percent higher in value ($416.3 million). Other key Asian markets for U.S. beef have cooled somewhat from the red-hot pace set earlier this year, but the results remain very encouraging. Through June, exports to South Korea were 73 percent higher in volume (86,890 metric tons) than last year and 69 percent higher in value ($380.8 million). Hong Kong was up 82 percent in volume (26,521 metric tons) and 109 percent in value ($117.3 million).
Another sparkling growth region for U.S. beef is Central and South America, where USMEF recently conducted a product showcase for U.S. red meat, bringing U.S. exporters to Panama City to meet with buyers from 11 different Latin American countries. Through June, U.S. beef exports to the region were 51 percent higher in volume (12,795 metric tons) than last year and 71 percent higher in value ($35.2 million), led by strong growth in Chile, Peru, Colombia and Guatemala.
"The response we saw at the product showcase in Panama was very encouraging," said Dan Halstrom, USMEF senior vice president for global marketing. "What we saw there was a large contingent of buyers who weren't just window-shopping. They came to buy, and we expect this event will lead to new business relationships and new sales of U.S. red meat."
Beef exports to the Middle East also continued to post strong growth, with volume (80,204 metric tons) up 38 percent from last year and value ($153.7 million) running 51 percent higher.
"Heavy purchasing activity early in the year has led to high inventories in certain Asian markets, so it's not unexpected that we would see some cooling off of our beef exports to these countries," said USMEF President and CEO Philip Seng. "But this confirms the need for continued, aggressive promotion, so we can keep export growth to Asia strong throughout the year. It's also very encouraging to see exports performing so well in the Western Hemisphere and the Middle East."
Pork exports to Korea tremendous; Japan shows steady growth
South Korea has taken bold measures in recent months to deal with its dwindling pork supplies and rising prices, and U.S. pork has been well-positioned to capitalize. With duty-free access on certain cuts and aggressive marketing programs firmly in place, U.S. pork exports to Korea reached 122,880 metric tons valued at $301.5 million. This represented a 145 percent increase in volume over the first half of last year, and nearly triple the value.
Coming off a record value year in 2010 of more than $1.6 billion, pork exports to Japan have increased another 10 percent in volume (249,417 metric tons) and 13 percent in value ($944.2 million) through the first half of this year. Exports to Canada have grown at a similar pace – achieving a 10 percent increase in volume (97,204 metric tons) and 12 percent growth in value ($335 million). The Hong Kong/China region – where access was limited in the early months of 2010 – was up 42 percent in volume (173,462 metric tons) and 30 percent in value ($260.5 million).
"The situation in Korea stems from some unfortunate circumstances, as its hog herd has been devastated by foot-and-mouth disease," Seng said. "But it makes for an interesting case study for the remarkable growth we can achieve when we are not saddled with a 25 percent tariff – something our members of Congress need to consider as they debate the Korea-U.S. Free Trade Agreement. In addition, we've seen the market share for U.S. pork increase versus our competition under comparable access conditions."
As for Japan, Seng noted that this market continues to generate amazing returns for U.S. pork producers. He remains hopeful that by December the U.S. will be challenging last year's record value – which is a mark many people would have said was unthinkable just a few years ago.
Mexico, the largest volume destination for U.S. pork, saw exports fall by 3 percent in volume (260,858 metric tons) and hold steady in value ($484.9 million) compared to last year. U.S. ham and shoulder cuts were recently granted a tariff reduction (from 5 percent to 2.5 percent) as a result of a settlement in the NAFTA trucking dispute. These retaliatory tariffs are scheduled to be removed completely in the near future, which should help U.S. pork regain momentum in Mexico.
"Our pork results in Mexico are still solid, but I will be very pleased when these retaliatory tariffs are completely behind us," Seng explained. "Canada is our chief competitor in this market, and these tariffs severely reduced our advantage in terms of transportation costs."

Lamb export growth led by Mexico, Canada, Caribbean
U.S. lamb exports grew by 59 percent in volume (9,395 metric tons) and 31 percent in value ($15.5 million) in the first half of 2011. Exports to the mainstay markets of Mexico, Canada and the Caribbean led the way, with strong growth also in Costa Rica, Guatemala and the United Arab Emirates.
Complete 2011 export statistics for U.S. beef, pork and lamb are available online.